Today we're sharing everything you need to know about boudoir poses for curvy gals! 
Are you a curvy gal who's been thinking about doing a boudoir session? Maybe you're not sure where to start, or what poses will work best for you. Fear not! This post is here to help. Boudoir photography is all the rage right now. It's a great way for all women, of any shape, size, or age, to capture their feminine side.
With these boudoir poses (and a few bonus wardrobe ideas), you can feel sexy and confident in your own skin, just as you are today!  
Ready to get started? Let's go!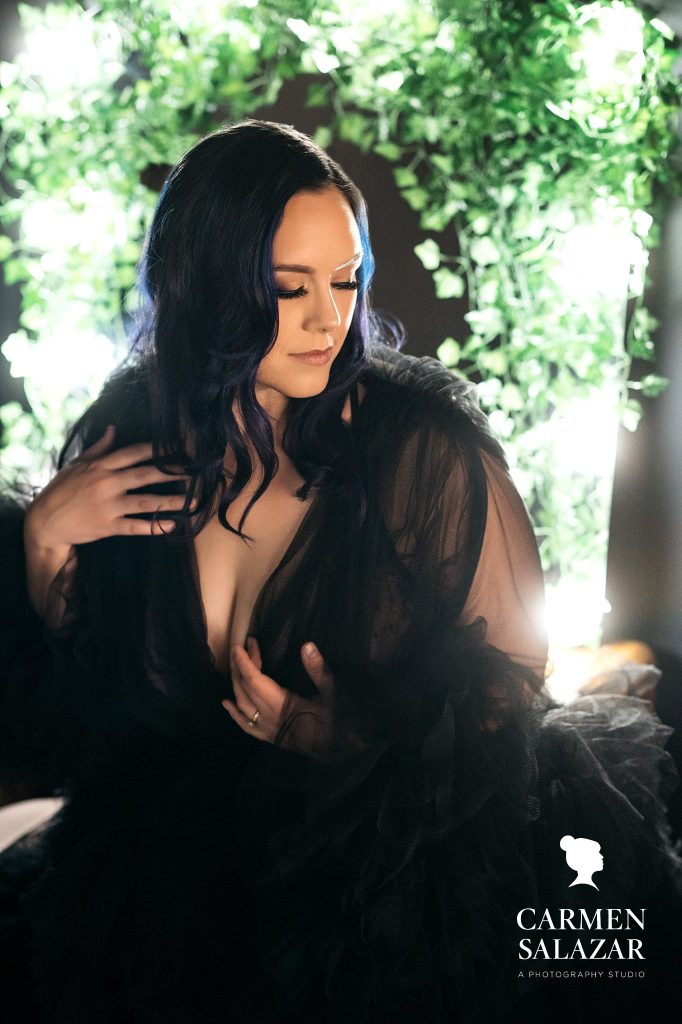 Posing On Your Back
Feeling uncomfortable about your body? Try posing on your back. Allow gravity to assist you in contouring your body and accentuating your chest. Wrap your arms around your chest to provide your gals a little support, or wear a supportive bra. With this tip, you will feel like the supermodel that you are!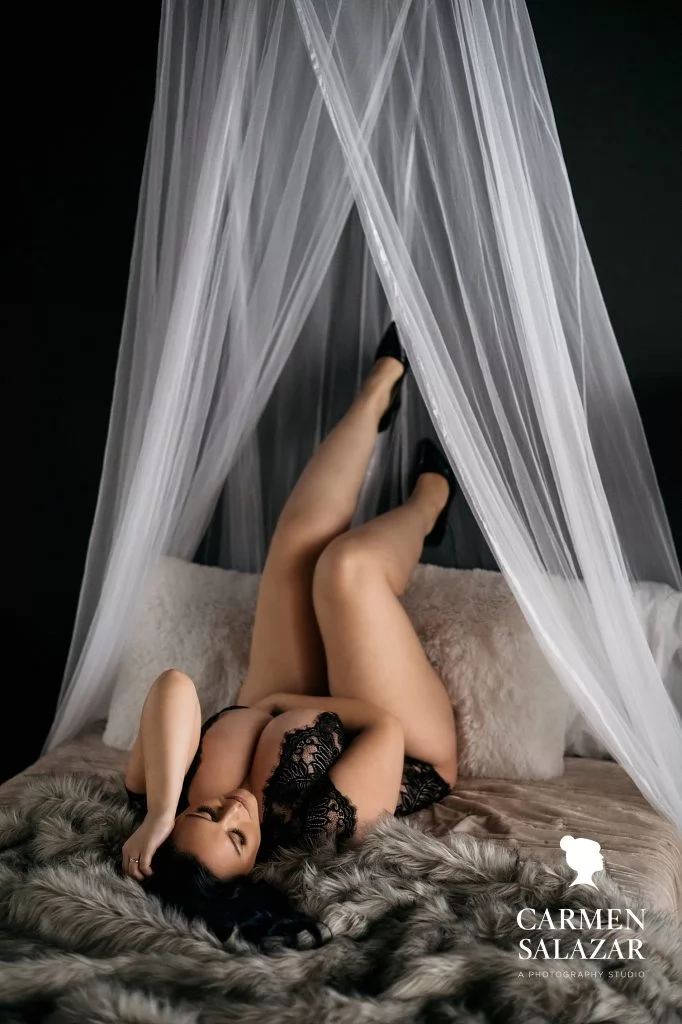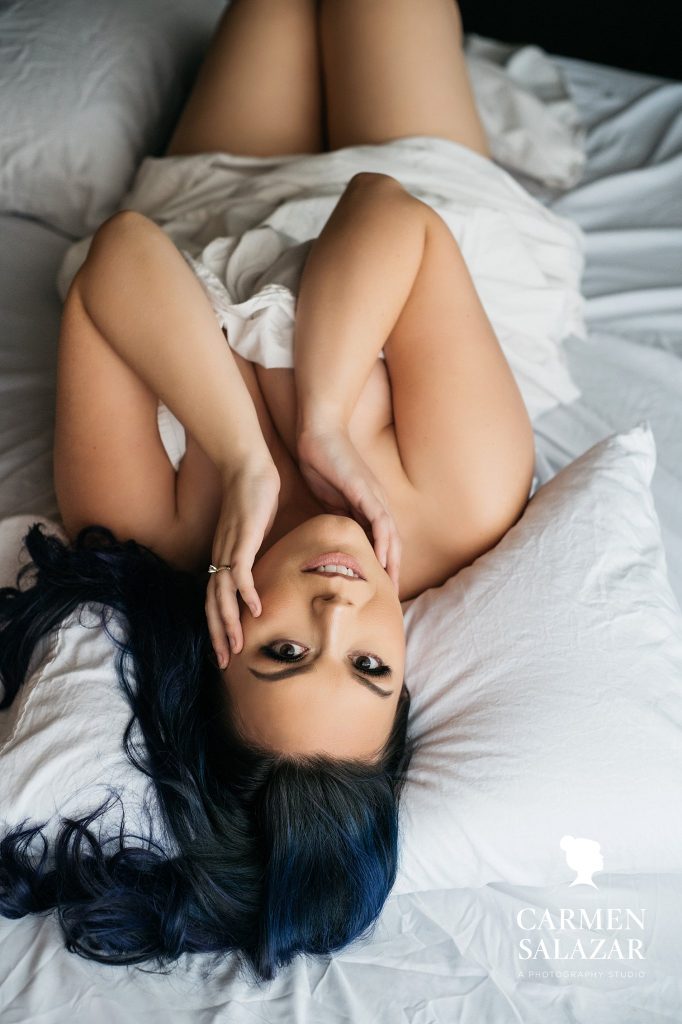 Support Yourself With Your Arms
If you are a larger-chested woman, you might feel limited to wearing lingerie with built-in support. We encourage you to reconsider! Instead, choose a wardrobe that makes you feel confident and sexy! The following trick works to accentuate your assets when wearing non-supportive lingerie.
Try this! Wrap your arms around your torso, covering (or not) your breasts, then learn forward. In doing so, your arms provide the support and the boost those gals need to look full and sexy!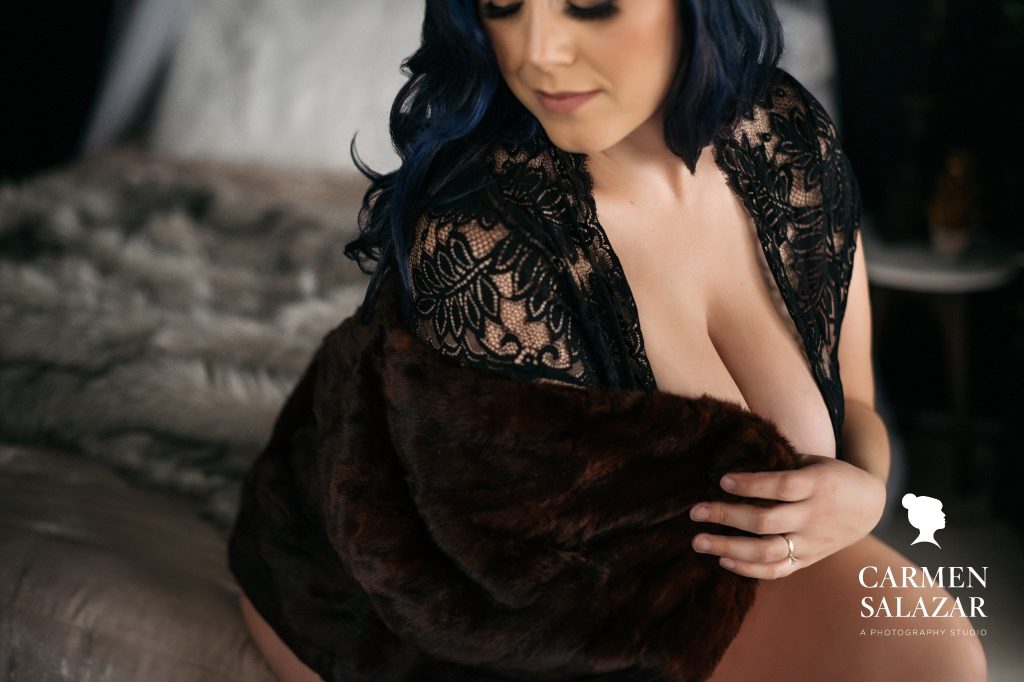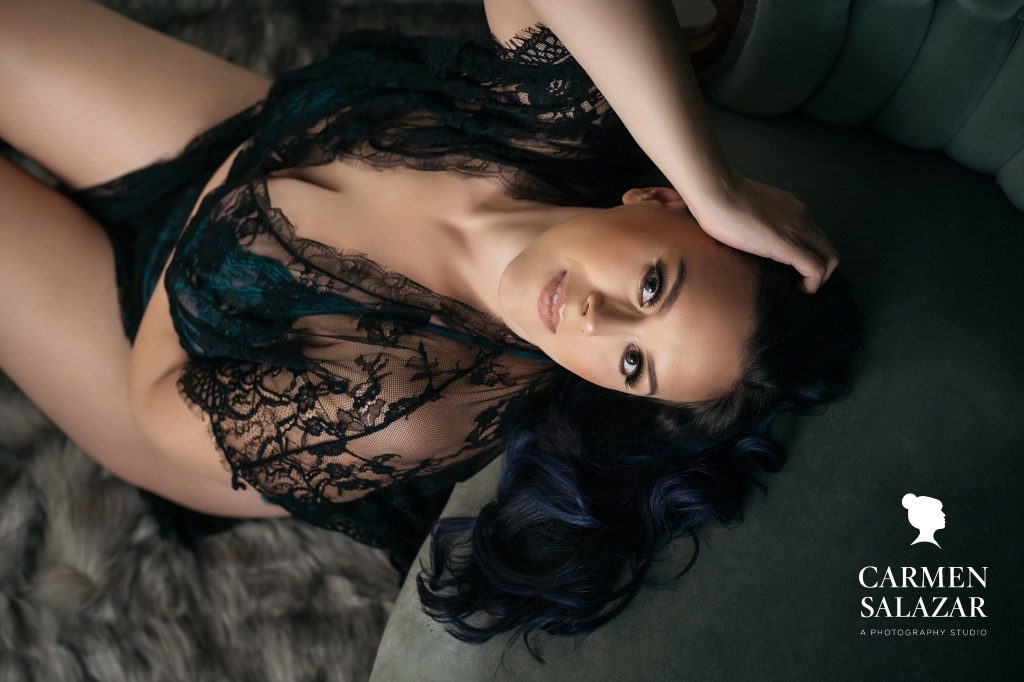 Pose on Your Belly
Posing on your belly also has its benefits. This pose provides a fun, flirty, and sexy look. Support your body with your arms. Pop your bum into the air. Then kick those toes up into the air. The bed will support your body in this pose while highlighting your beautiful feminine form!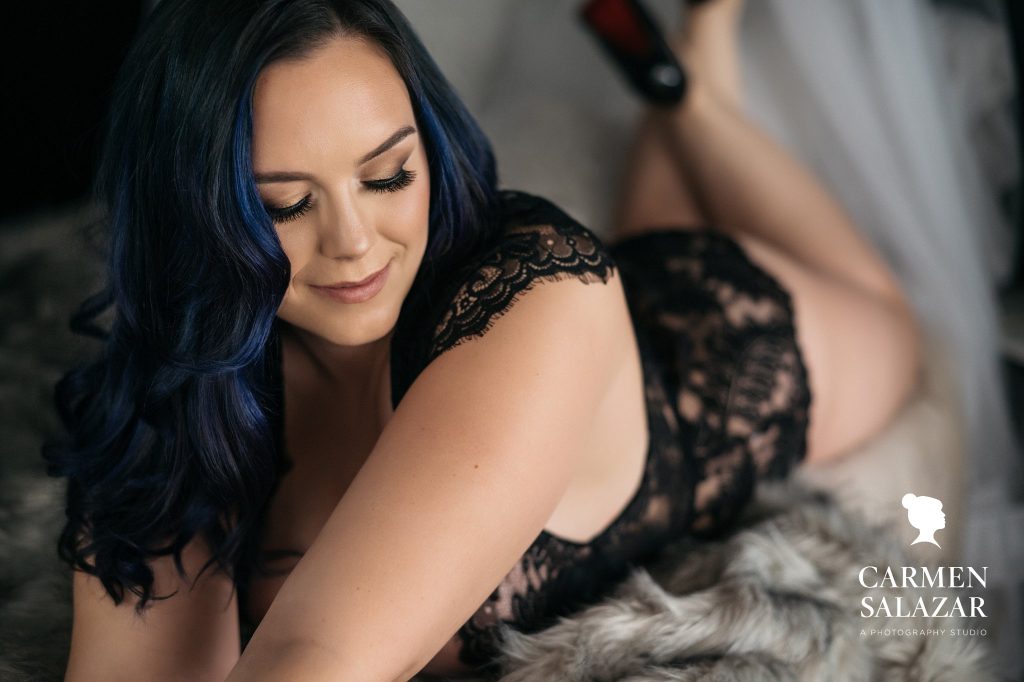 Bonus Content: Hollywood Glam Robe
You don't have to bare it all to be sexy! (Though, go for that look if you are comfortable!) Sometimes, just the hint of skin, especially in a Hollywood Glam inspired robe, sets the desired mood. Pair a fully supported bra and plunging neckline with this sheer robe. The combination offers coverage, support, and the perfect boudoir look.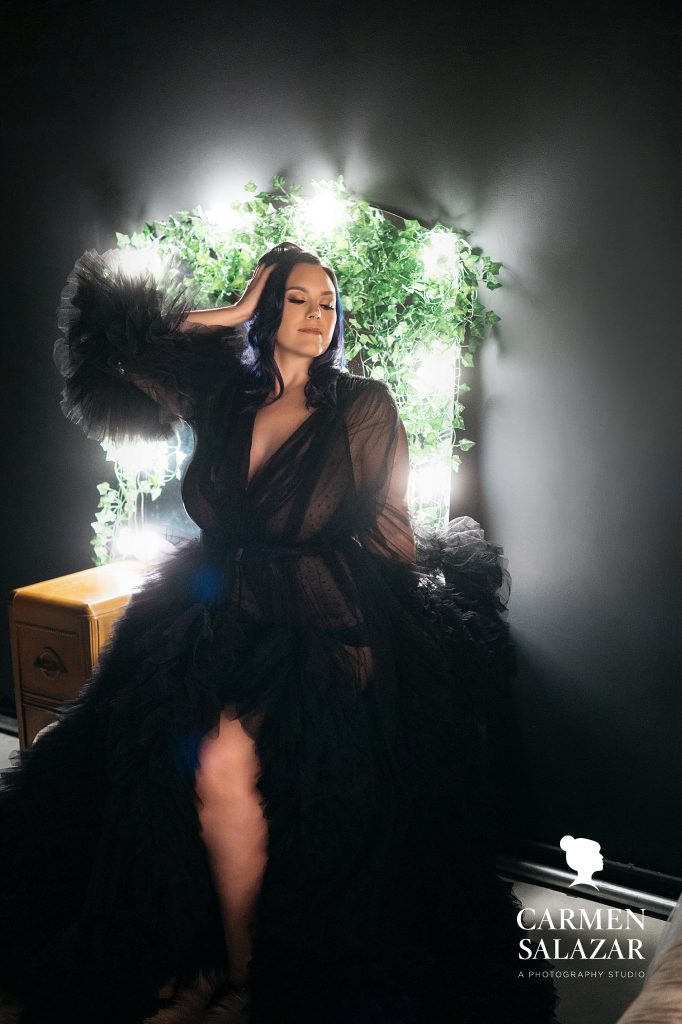 Bonus Content: Between the Sheets
If you still aren't sure what to wear, remember that all bodies look great when slipped between a set of crisp white sheets. In this stunning set, the sheets can be positioned just right to show more or less skin, depending on your comfort level. White sheets also hold a seductive quality– a tease– of what might be hiding beneath those sheets. Sheets can be wrapped, draped, or positioned on or around the body to perfectly contour your body and highlight your best features. The perfect choice for all curvy gals, you definitely want to try the posing between the sheets!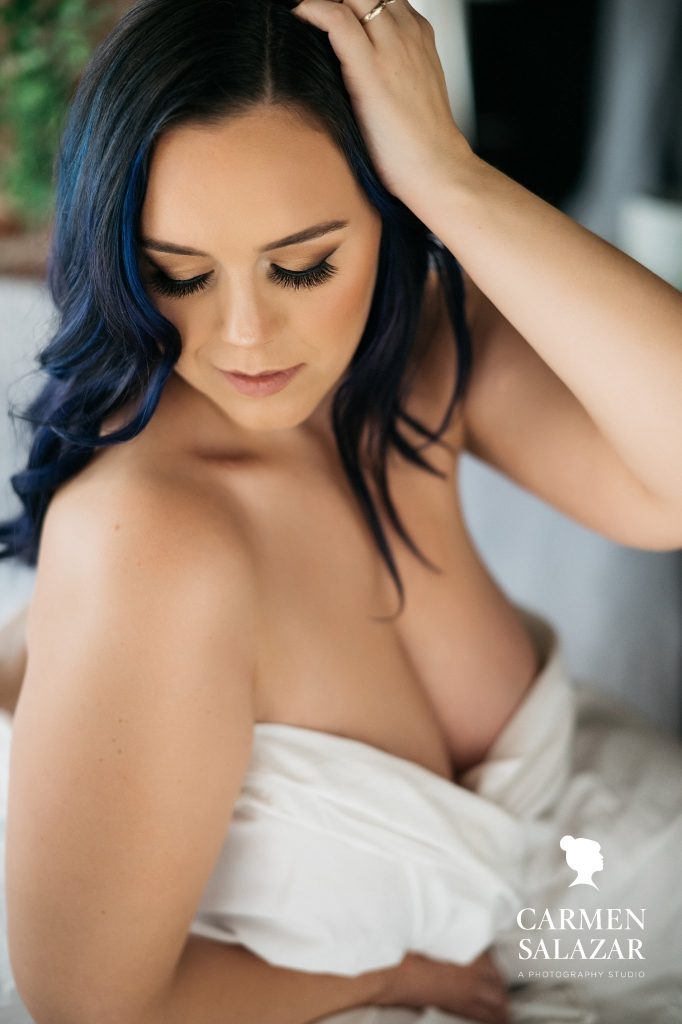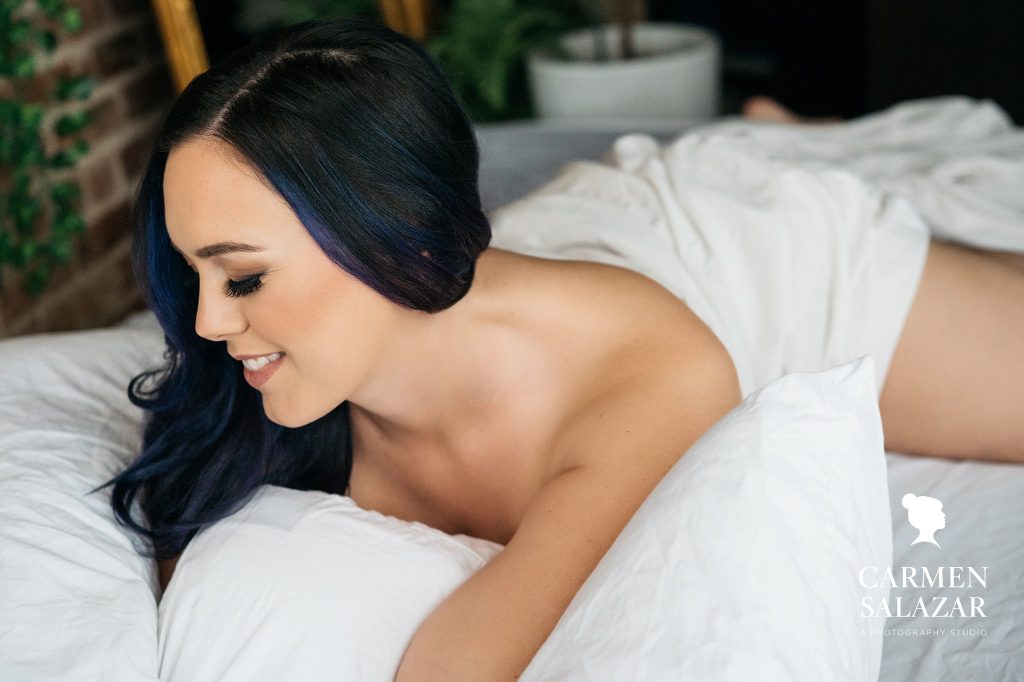 You Are Ready!
We hope these boudoir poses for curvy gals have been helpful for you. If you have been wanting to do a boudoir photo session but have wondered if your body is ready to be photographed, set those fears aside. You are ready and beautiful just as you are!
At Carmen Salazar Photography, we want to help you celebrate YOU! Let us document the strong and beautiful woman you are at your core. Be inspired every day by the woman you see in the artwork we create together during a boudoir session. Take that inspiration, confidence, and strength into each and every day in all you do. 
Boudoir Photography Sacramento | Sacramento Boudoir Photography