"What if I don't like how I look in my boudoir photos?" This question represents one of the most common hesitations we hear from women considering boudoir photography.  
We understand! Many of us feel insecure about our bodies and nervous about how we look in photos. At Carmen Salazar Photography, we specialize in boudoir photography. We know how intimidating it can be to step out of your comfort zone and trust us with a task as important as capturing your inner and outer beauty. That's why today, we want to share the story of one of our clients who overcame her insecurities and fell in love with the photos we created together.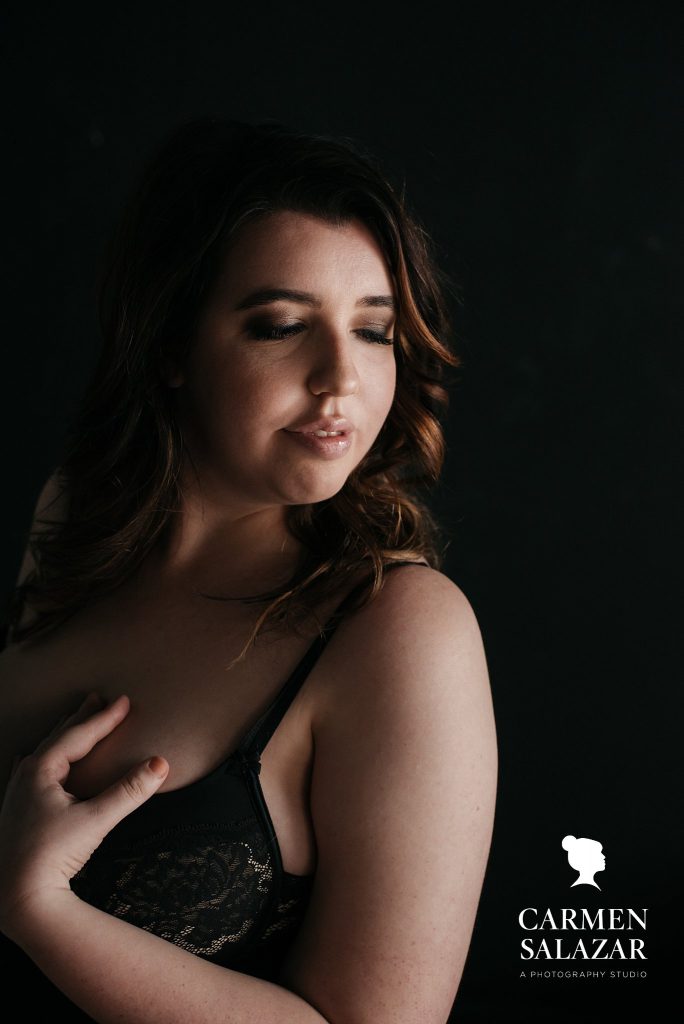 Why Choose Boudoir Photography?
Women choose to participate in Boudoir Photography for a variety of reasons. Some are ready to celebrate themselves, see themselves in a new light, feel empowered, or give a unique gift to a loved one. Today's featured Boudoir Beauty arrived at our studio wanting to celebrate moving into adulthood and the progress she'd made with weight loss while creating a wedding gift for her loved one.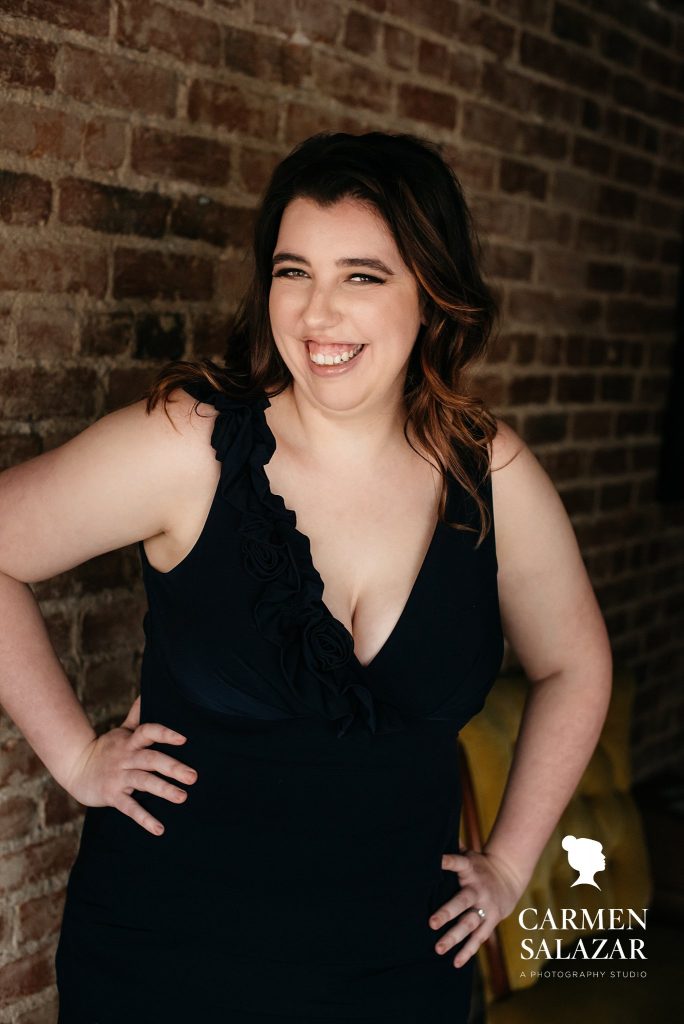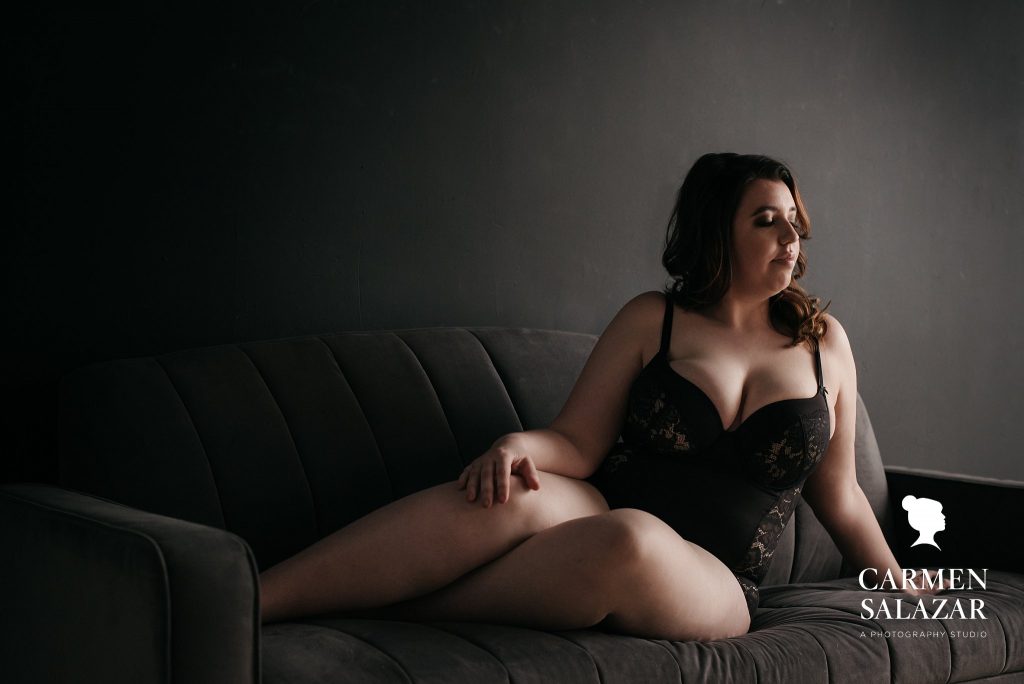 Overcoming Fears
When the day arrived, our Boudoir Beauty entered our studio with excited nervous energy. She had always been uncomfortable with her weight and was worried that she wouldn't feel sexy or love how she looked in her photos. She wasn't sure this was the right time to be professionally photographed. We talked her through her fears and reassured her that everyone has doubts before their session but that they always leave feeling beautiful and empowered after they see their photos.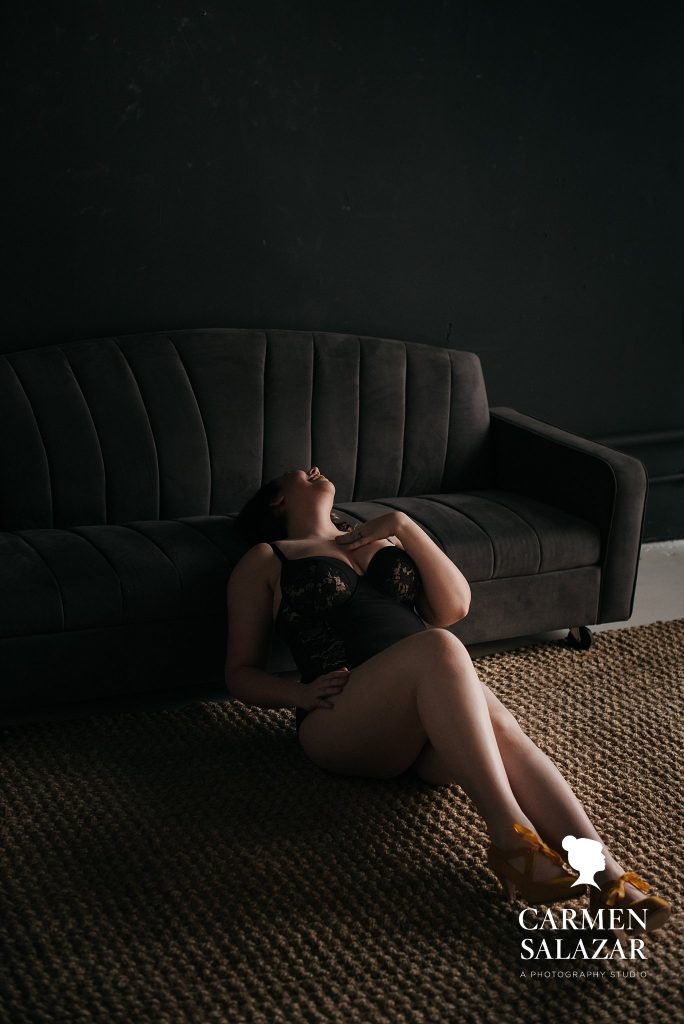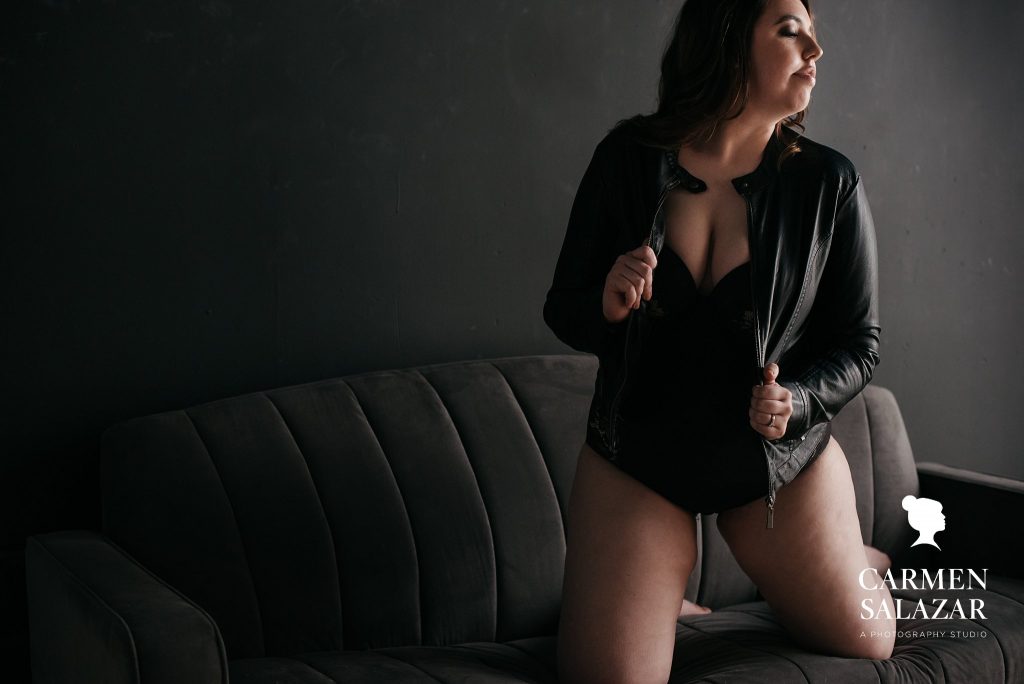 Loving Her Photos
Next came the same-day reveal, which is one of our favorite parts of boudoir photoshoots here at Carmen Salazar Photography. After the session, our Boudoir Beauty sat back and relaxed while we quickly edited some beautiful images for her to see right away. When we showed her the slideshow presentation, she loved every single photo. She saw herself through our eyes – beautiful, confident, strong, and sexy. All those years of insecurity washed away with each click of the mouse as she viewed her gorgeous images on the screen.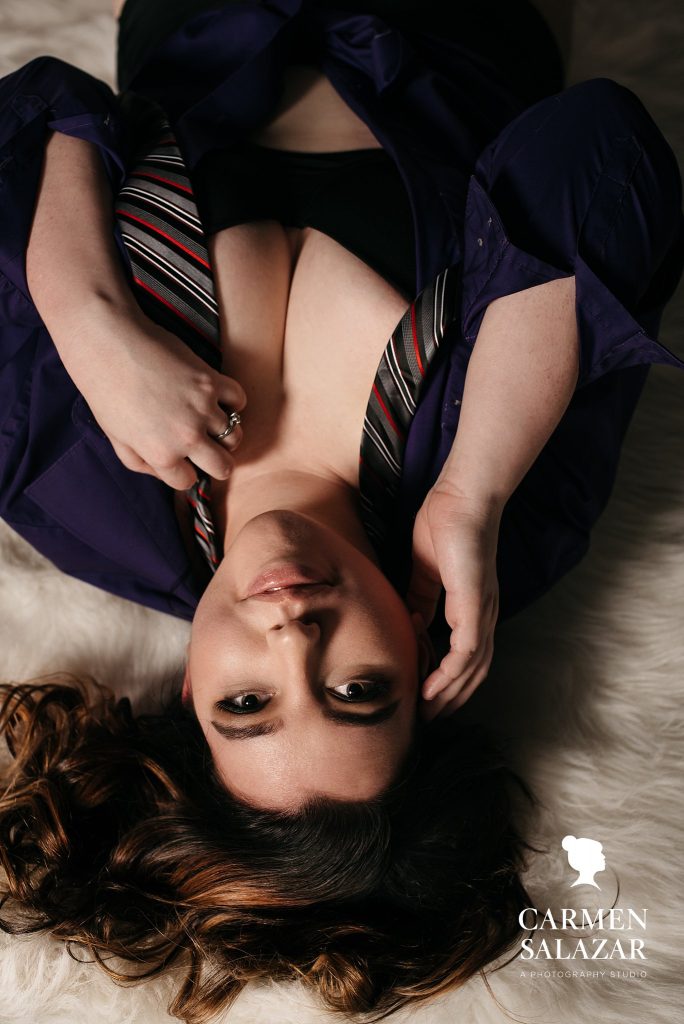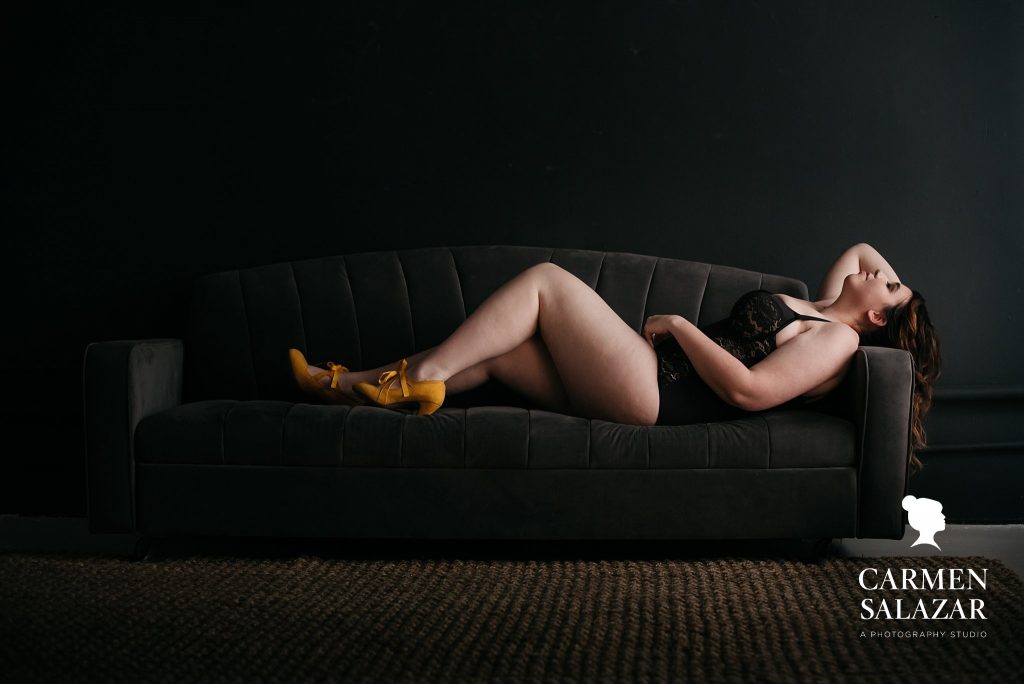 Advice For Future Clients
We asked our Boudoir Beauty to share some encouraging words with future clients. Here's what she had to say:
"Trust your photographer! Carmen is in the business for a reason. She and Nicole were so positive and complimentary that I felt happy and comfortable the entire time. No matter what your concerns or insecurities may be, you will feel beautiful and empowered after your session."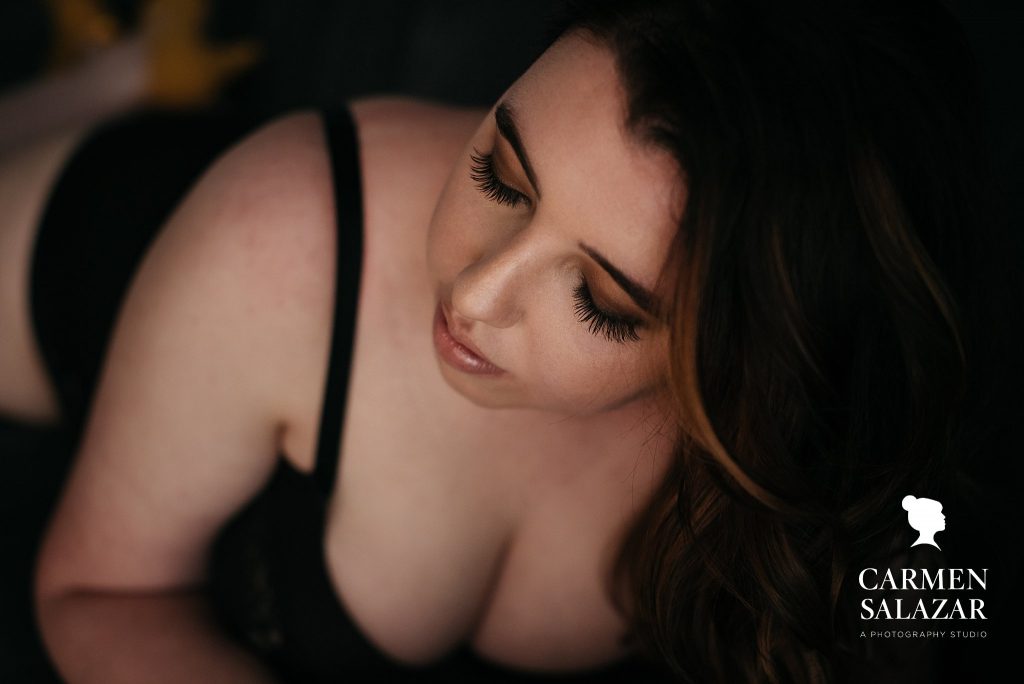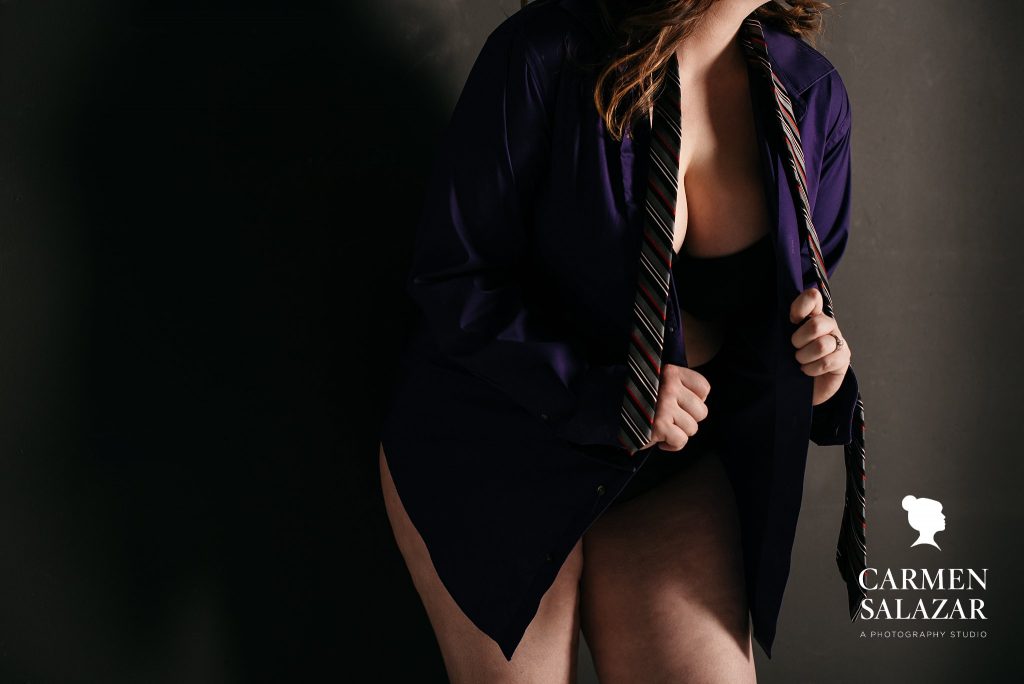 We Support You
Though it may seem intimidating at first to take boudoir photos – just know that you are not alone! The team at Carmen Salazar Photography understands everything you are feeling because we have seen it all before. Our goal is to help women feel beautiful and confident within themselves no matter their shape or size. We want everyone who walks through our doors to leave feeling empowered and full of self-love and acceptance.
Whether you feel hopelessly insecure about yourself or simply have doubts about how you will look on camera — we promise that you will leave feeling more beautiful. Not only that, but you will have artwork documenting your unique inner beauty through boudoir photography.
So, if you find yourself asking "What if I don't like my boudoir photos?" – set those insecurities aside and contact us today! Let our team of experts help you gain courage from within! Then go out into the world as your best self!  
Sacramento Boudoir Photography | Boudoir Photography Sacramento