It's time to show off your tattoos with boudoir photography!
You've waited months, maybe even years, to get that tattoo. It's taken time to save up for it, to find the right artist, and to finally make the commitment. And now that it's done, you love it! So why not show it off? Boudoir photography is the perfect way to do just that.
Boudoir photography is a style of photography that is intimate, sensual, and often suggestive. It is the perfect way to show off your tattoos in a tasteful and empowering way. And there's no better time than now to book a session at Carmen Salazar Photography!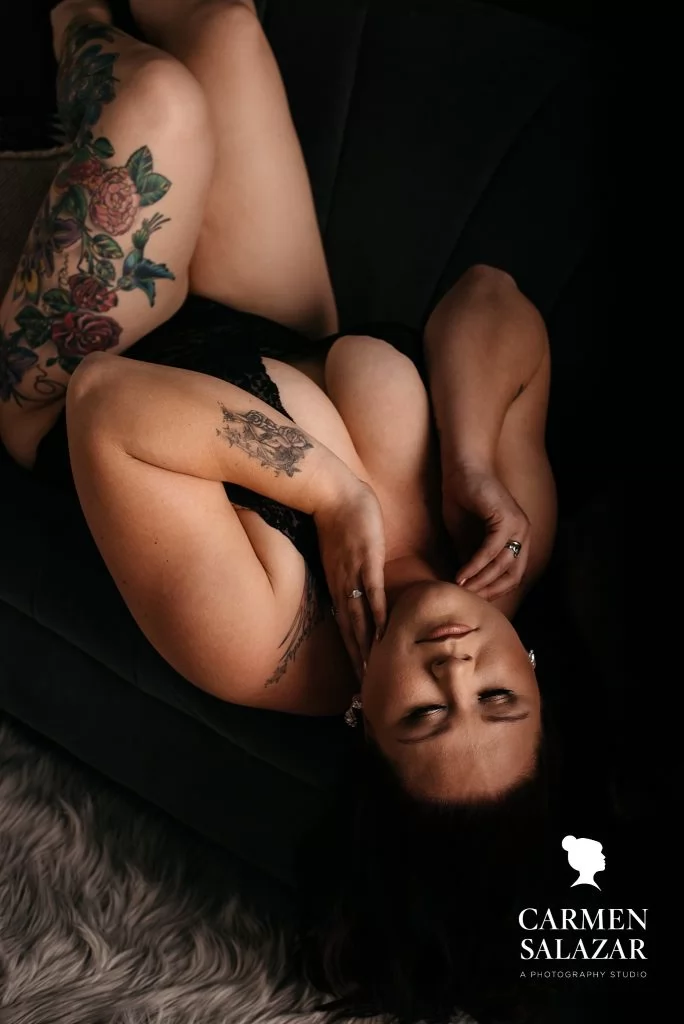 What is Boudoir Photography?
Boudoir photography has been around for centuries, but it has seen a resurgence in popularity in recent years. This type of photography is about celebrating your femininity, your sensuality, and your sexuality. It is about feeling beautiful, confident, and sexy.
Boudoir photography can be done in a number of different styles. It can be soft and romantic, or bold and edgy. The most important thing is that you feel comfortable and empowered by the experience.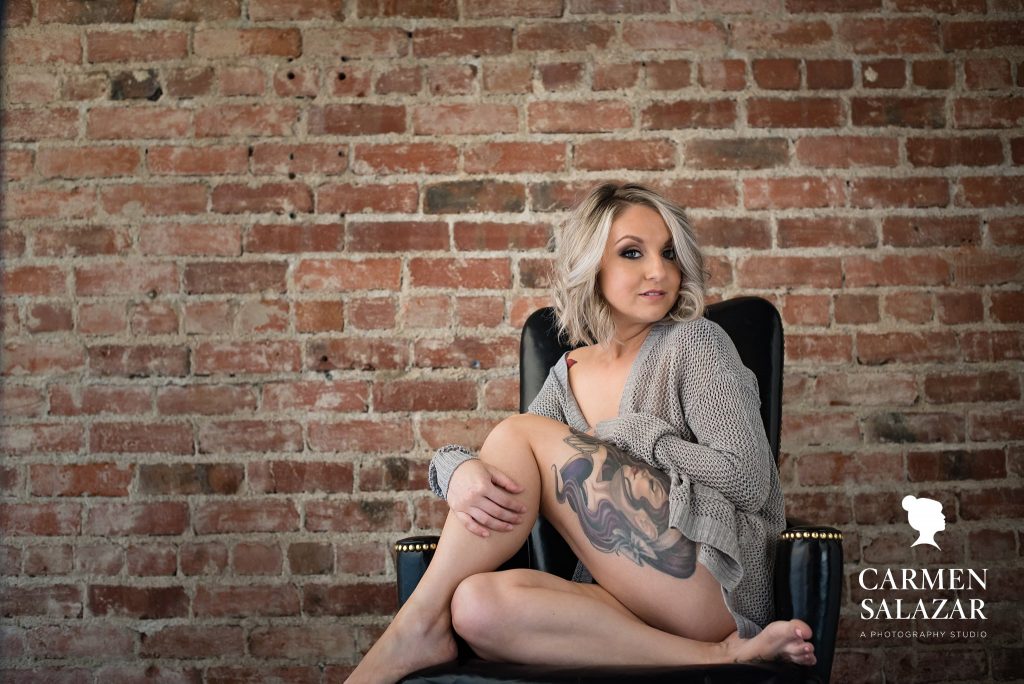 What sets boudoir photography apart from other types of portraiture is its focus on empowerment. Boudoir photos are all about helping women see themselves through a different lens—one that celebrates their personal stories, imperfections, and unique beauty. Whether you're plus-size or petite, have stretch marks or scars, there's no "wrong" way to look in boudoir photos. In fact, those so-called imperfections are what make you beautiful and special.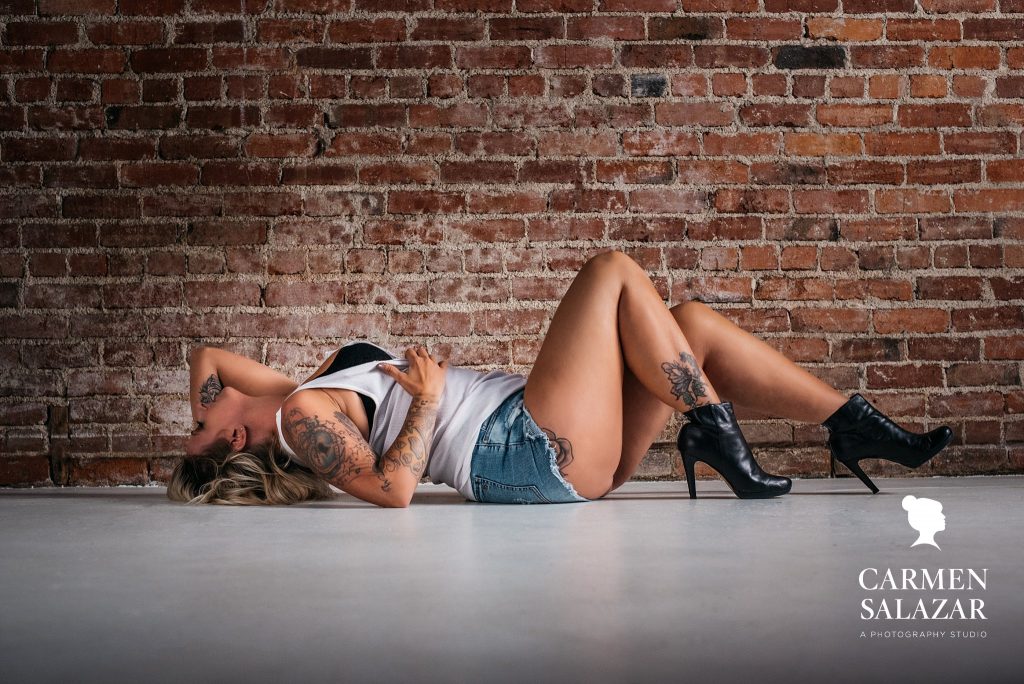 What to Expect From a Boudoir Photo Session?
A boudoir photo session is all about you and your comfort level. Before your session, you'll consult with a member of our team to discuss your vision for the session. Do you want something sultry and mysterious? Or playful and fun? Maybe you want to focus on your favorite tattoos. Whatever you decide, Carmen will work with you to make sure your vision comes to life.
During the session, you can expect to feel comfortable and sexy. Carmen will guide you through each pose, helping you find your light and angle. She'll also help with wardrobe changes and any other adjustments you may need throughout the session.
Most importantly, a boudoir photo session should be fun! This is your time to let loose, be yourself, and feel gorgeous!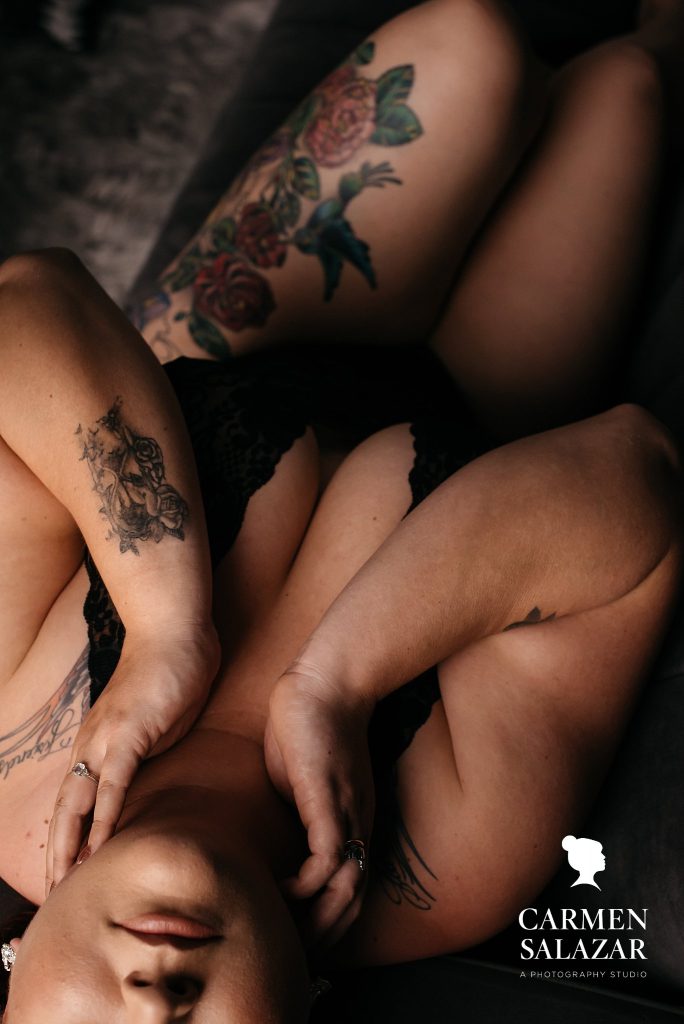 Why You Should Show Off Your Tattoos with Boudoir Photography
You've spent years carefully curating your tattoo collection. They're a beautiful expression of your unique self, and you're proud of them. So why not show them off? Boudoir photography is the perfect way to do just that.
You love your tattoos, but have you ever taken time to see the fullness of your own beauty from a different perspective? Because boudoir photos are all about celebrating your unique beauty—tattoos included—they can help you see yourself (and your ink) in a whole new light. When you see yourself through this new lens, it can be empowering.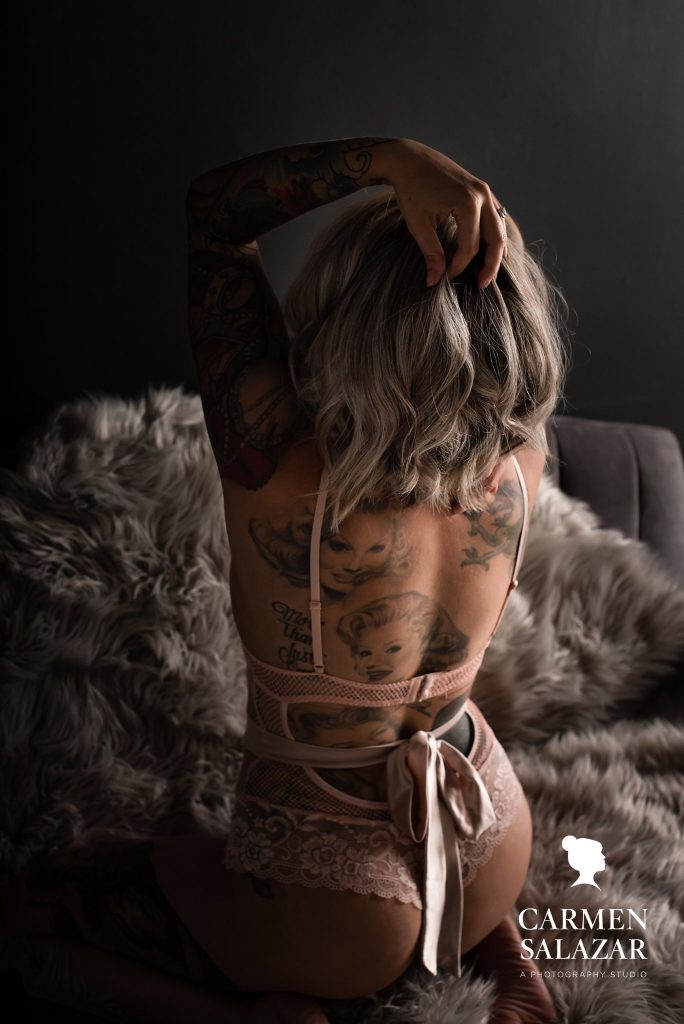 Book a Session Today!
Your tattoos are beautiful expressions of who you are. You deserve to show off your tattoos with boudoir photography. This art form is the perfect way to celebrate your body, your tattoos, and your femininity.
Sacramento Boudoir Photography | Boudoir Photography Sacramento