Finding a Pro Who Grasps Your Vision and Ensures Comfort
Embarking on a boudoir photography journey is about capturing intimate, empowering moments that reflect your unique beauty and confidence. The photographer you choose plays a pivotal role in this transformative experience. As such, this choice requires care, attention, and understanding. If you're pondering a boudoir session, let's delve deeper into selecting the perfect photographer to ensure an unforgettable session.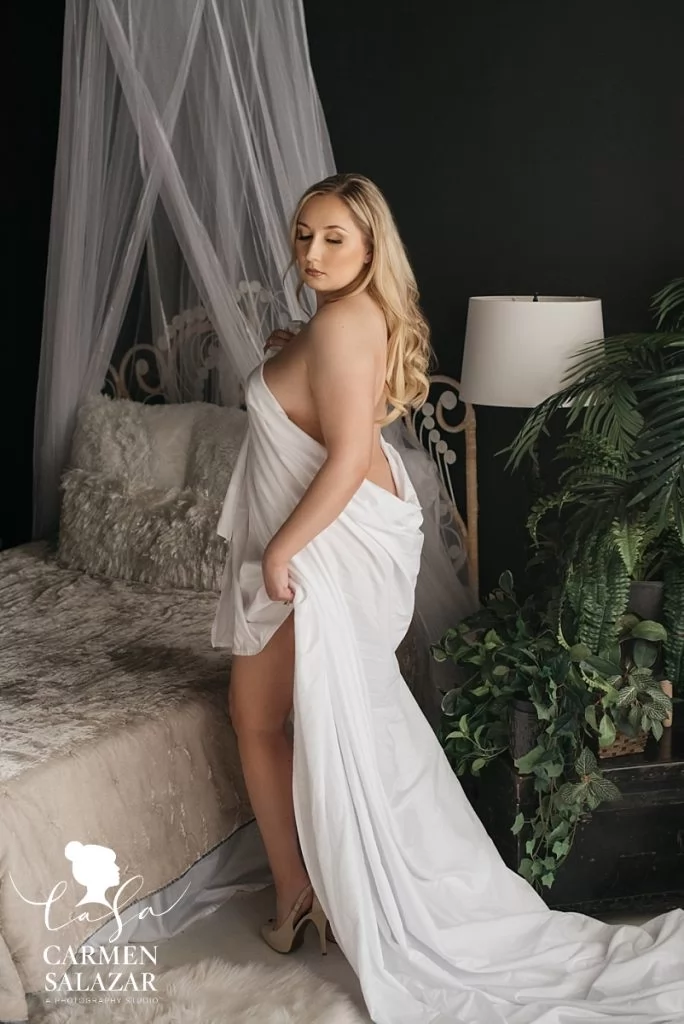 1. Comprehensive Research
Before anything else, do your homework. Explore potential photographers' websites, social media profiles, and online portfolios. Observe the nuances of their photos. Do their shots exude sensuality, vulnerability, and elegance in the way you envision for your own session?
2. Initiate a Pre-Session Dialogue
A face-to-face or virtual consultation will help you assess the rapport you have with the photographer. This meeting is an opportunity to relay your vision, discuss any apprehensions, and sense their enthusiasm and professionalism.
3. Assess Experience and Expertise
While many photographers might venture into boudoir photography, there's a marked difference between dabbling in a genre and mastering it. Inquire about the duration of their involvement in boudoir photography, the number of sessions they've handled, and if they've undertaken specialized training.
4. Prioritize Transparent Communication
A worthy photographer will not only be a good listener but an active communicator. They should be proactive in offering suggestions, addressing concerns, and creating an environment of mutual respect and understanding.
5. Boundaries are Sacred
Every individual's comfort zone varies. A seasoned boudoir photographer will never coerce you into a pose or attire you're uncomfortable with. It's essential to articulate your boundaries beforehand and select a photographer who respects them.
6. Scrutinize Contractual Details
Dive into the nitty-gritty of the contract. Understand rights over the photos, usage permissions, and privacy clauses. Ensure there's a clause guaranteeing your images won't be used for promotional purposes without explicit consent.
7. Real Stories Speak Volumes
Reviews and testimonials are insightful, but personal anecdotes are gold. If possible, connect with prior clients. Their experiences, both positive and negative, will offer a clearer picture of what you can anticipate.
8. An Investment, Not an Expense
While it's essential to understand pricing structures, remember that boudoir photography is an investment in self-love and confidence. Talk about package details, payment plans, and any additional costs like makeup, wardrobe, or location fees. All of these factors make up the overall breakdown of your boudoir session – and this is so important.
9. Trust Your Inner Compass
Your intuition is powerful. After interactions and research, take a moment to introspect. How did you feel about the photographer? Did they resonate with your vision? Trusting your gut can lead you to a choice you'll cherish.
10. Professionalism is Paramount
Consistent, timely communication, and an adherence to commitments are signs of a professional. However, this shouldn't compromise warmth. The ideal photographer balances impeccable professionalism with genuine concern for your comfort and satisfaction.
11. Post-Session Deliverables
Clarify what you'll receive post-session. How many edited images are part of the package? Is there an option for a printed album? Understanding these details upfront ensures you get the most out of your investment. We always want you to love what you take away from your session – starting with the experience itself all the way to the final products and images in hand.
12. A Collaborative Approach
Boudoir photography is a collaboration. Your photographer should be open to ideas, flexible in their approach, and willing to co-create the vision with you. This experience is about YOU – what makes you comfortable? What are you hoping to achieve through your session.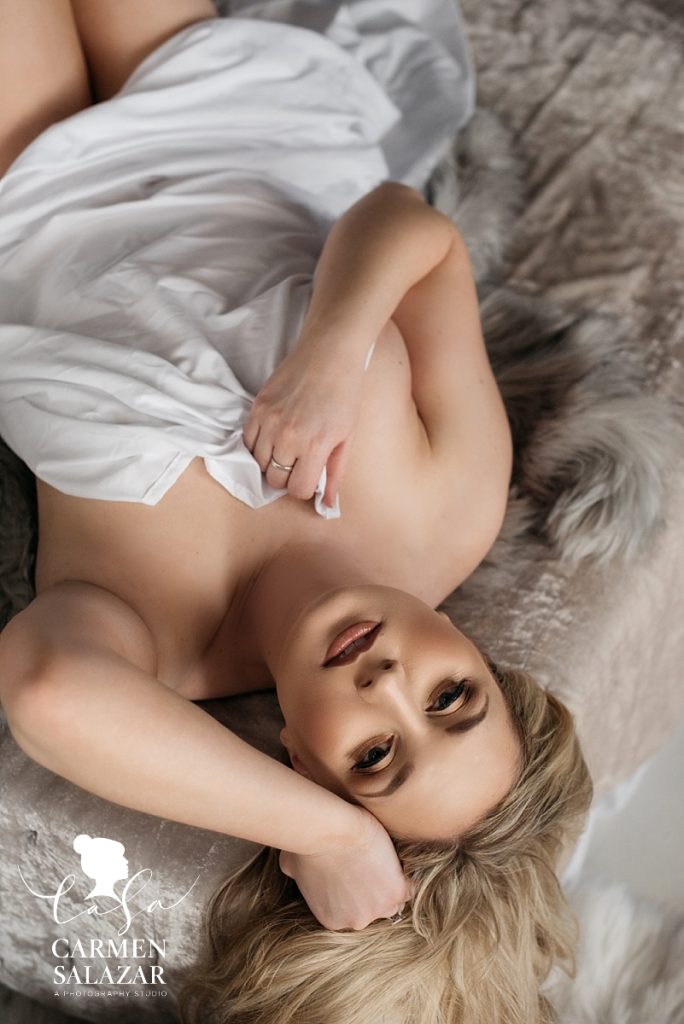 Are You Ready to Embrace Your Beauty? Let's chat about a session with us.
A boudoir session is an intimate journey into self-expression and empowerment. The right photographer becomes an ally in this process, ensuring every shot reflects your essence and confidence. By investing time and thought into this choice, you'll pave the way for a session that's as unforgettable as the photographs it produces.
Every individual possesses a unique allure, waiting to be unveiled and celebrated. Our dedicated team is passionate about capturing your essence in its most authentic, empowering form. By choosing us, you're not just booking a photoshoot; you're investing in a transformative experience crafted with respect, artistry, and dedication. Don't let these moments remain uncelebrated. Contact us today to reserve your boudoir session and embark on a journey where you're the muse, the star, and the masterpiece. Let's co-create magic together!
Sacramento Boudoir Photography | Boudoir Photography Sacramento