Leanne's Empowering Boudoir Session with Carmen Salazar
When it comes to photography, there's something magical about capturing moments that transcend mere images and tell a unique story. At Carmen Salazar Photography, we are privileged to be part of these stories, and today, we're excited to share one with you. Meet our wonderful client who stepped into the world of boudoir photography with courage, all while crafting an unforgettable gift for her fiancé.
Embracing Inner Beauty: A Boudoir Adventure of Self-Assuredness
"I initially came in for a gift to my fiancé, but it was also intended to help me step outside of my comfort zone and do something I've never done before," shared our client. Her words echo the thoughts of many who venture into the world of boudoir photography with some level of uncertainty. Boudoir is more than just striking poses; it's about embracing your beauty, your individuality, and your self-confidence.
A Transformative Experience
Carmen Salazar Photography is not just about capturing beautiful images; it's about creating a transformative experience that empowers our clients. Our team strives to make everyone who walks through our doors feel comfortable, confident, and celebrated for who they are.
Capturing Confidence and Elegance
As boudoir photographers, we believe that confidence is the most beautiful thing a person can wear. With Carmen's expert guidance, our client transformed before the lens. Each click of the camera captured her elegance, charm, and newfound self-assuredness. We want to ensure you leave our studio feeling like the best version of yourself.
The Gift of Self-Confidence
Ms. Leanne's initial intention was to surprise her fiancé with a one-of-a-kind gift, but what she left with was immeasurable—a profound sense of self-confidence. Boudoir photography is a reminder that you are beautiful, powerful, and worthy of celebration. While we love the thought of a significant other when stepping into the realm of boudoir, we ultimately want you to leave our studio feeling like you did this experience for yourself.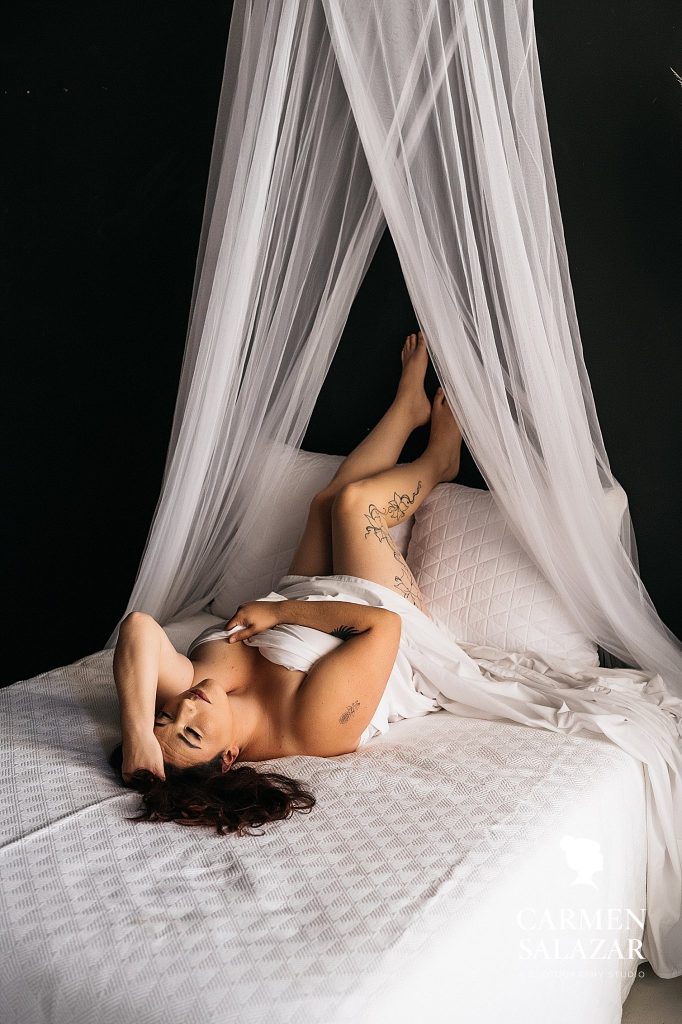 A Testimonial of Empowerment
"I never imagined I could feel so confident and beautiful. Carmen's expertise and the warm, welcoming atmosphere of the studio made all the difference. It was a transformative experience that I'll treasure forever," our client raved. "While I thought I would be timid and shy – per my usual personality – Carmen made me feel so at ease instantly and I found myself eager and ready to shoot that day and delve into my experience!"
Her testimonial reflects the essence of what we strive to achieve with every session.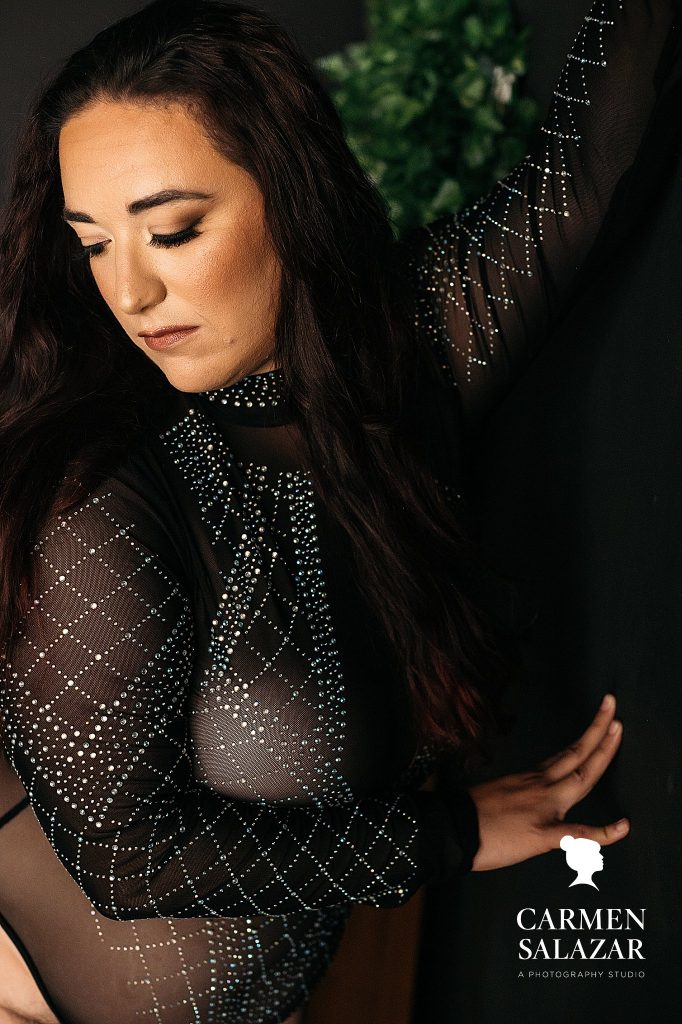 A Peek into a Typical Boudoir Shoot Day
If you're considering a boudoir session but are unsure of what to expect, let us walk you through a typical shoot day at Carmen Salazar Photography:
Pre-Shoot Consultation
The journey begins with a pre-shoot consultation, where we discuss your goals, preferences, and any questions or concerns you may have. We'll plan the session together, including wardrobe choices, styling, and understanding the timeline of the day.
Professional Hair and Makeup
On the day of your session, you'll be treated to a professional hair and makeup experience to ensure you look and feel your absolute best. Our skilled makeup artists and hairstylists will work with you to achieve the desired look, enhancing your natural beauty.
Wardrobe Selection
You'll have the opportunity to choose from a selection of outfits, lingerie, or personal items that make you feel confident and beautiful. We encourage you to bring items that are meaningful to you, as they can add a personal touch to your photos.
The Photoshoot
The photoshoot itself is a collaborative and empowering experience. Carmen is highly experienced in boudoir photography and will guide you through posing and expressions to capture your unique personality and style. The atmosphere is relaxed, and your comfort is our top priority.
Post-Shoot Viewing
After the shoot, you'll have a chance to view the images and select your favorites. Carmen will provide guidance on choosing the best shots that reflect your personality and capture your confidence.
The Final Products
Once you've made your selections, we'll work on editing and retouching the chosen images to enhance their beauty while preserving your natural look. You'll receive high-quality products or digital files of your selected photos, ready to be shared or gifted.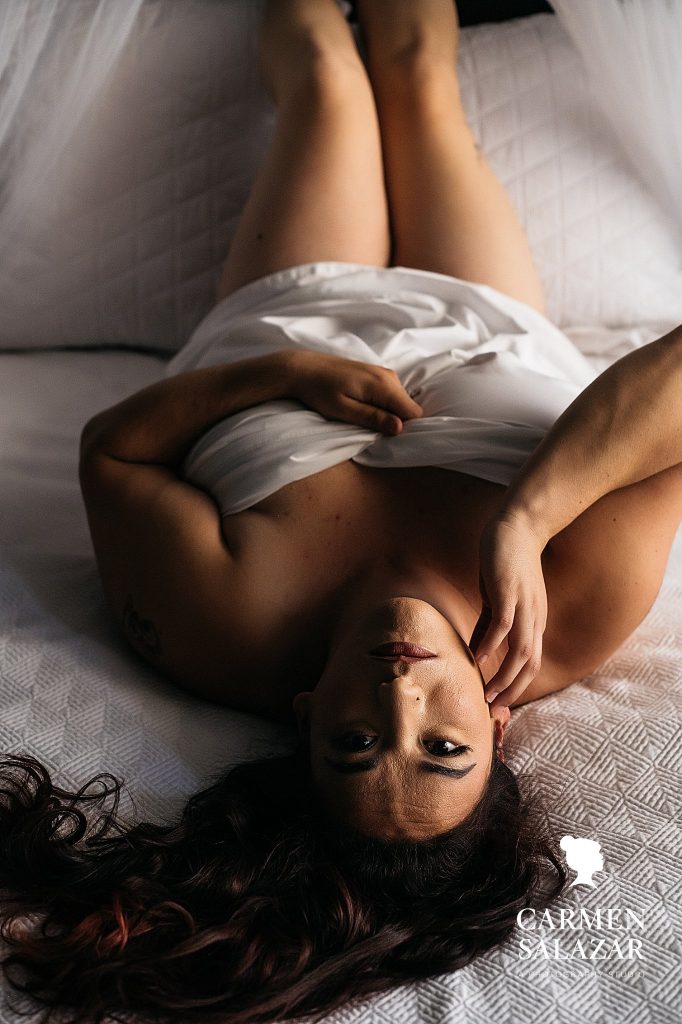 Embrace Your Journey with Carmen Salazar
Whether you're considering a boudoir session for yourself or as a gift for a loved one, Carmen Salazar Photography is here to make your experience extraordinary. We're dedicated to capturing your unique story and empowering you to embrace your true self.
Ready to embark on your own boudoir journey? Reach out today to schedule your session and discover the confidence, empowerment, and beauty that boudoir photography can unveil.
Sacramento Boudoir Photography | Boudoir Photography Sacramento