Today, we are tackling five things you should know about modest boudoir photography!
Yes, it's true! Boudoir photography can be modest AND sexy!
Boudoir photography is growing in popularity, and rightly so! Through boudoir experiences, women connect to their bodies in new ways, express their femininity, and grow in confidence. If the unclothed aspect of boudoir photography gives you pause, listen up. You don't have to strip down to reap the benefits of a boudoir session! At Carmen Salazar Photography, we always encourage our clients to wear what makes them feel most comfortable. When you feel comfortable, your inner self shines bright!
So grab a cup of tea, kick your feet up, and get ready to learn more about modest boudoir photography while taking some inspiration from these wardrobe options!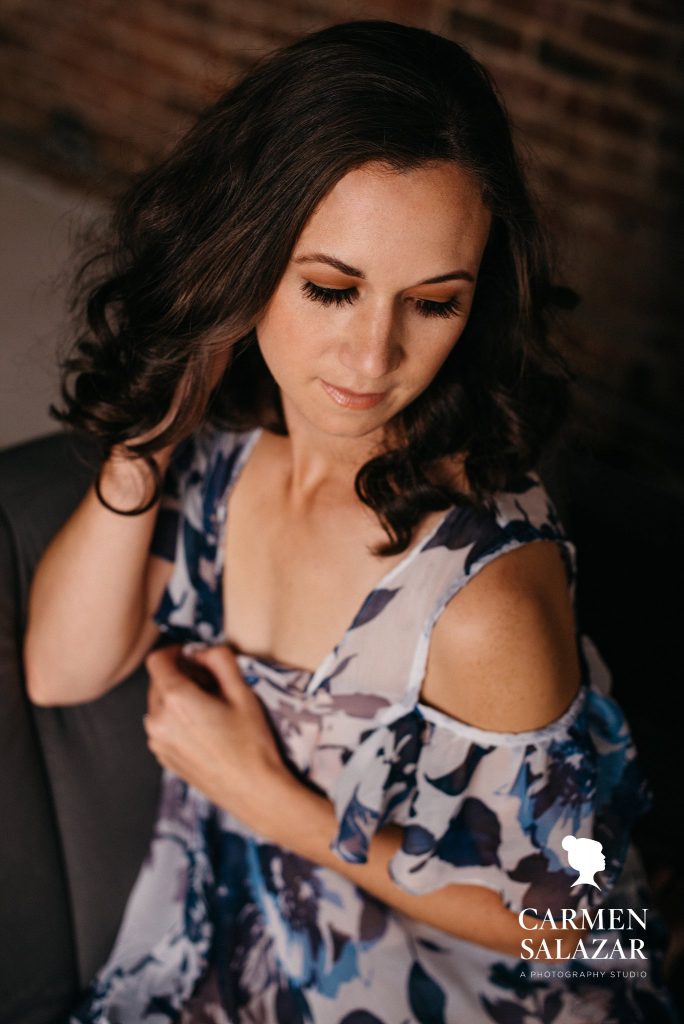 1. Modest Boudoir Photography is For Everyone.
Boudoir Photography is for women of any age, size, shape, and demographic. That includes YOU! Ditch the idea that boudoir photography is only for the thin models of the 90s. You are perfect just as you are, in your skin today, with its imperfections, scars, wrinkles, and cellulite! Trust the process, the photographer, and allow your inner light to shine!
Boudoir Photography is also for the more conservative woman. The portraits created in our studio can be for your eyes only! There is no obligation to share your photos with anyone if you don't want to. Your portraits can be a personal reminder of your beauty, strength, and courage. (Note: We will never share your photos without your permission.)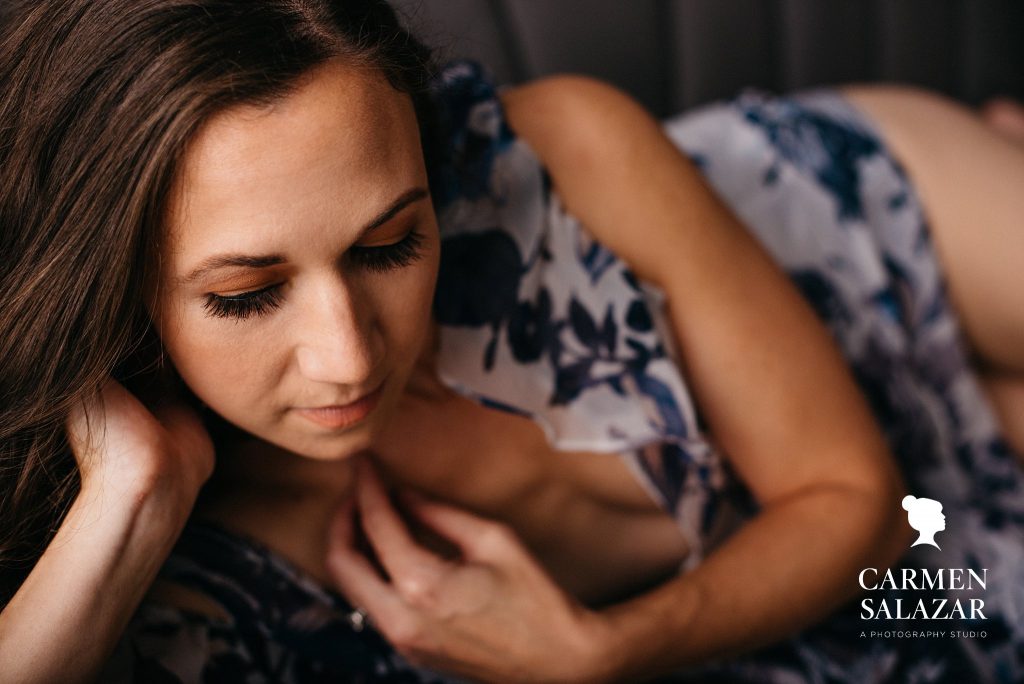 2. Modest Boudoir Photography artwork makes a great gift.
Many women are looking for a unique gift for their significant other, either as a birthday gift or a wedding gift. Boudoir photography can be that extra-special something that shows your partner how much you care for them. The portraits don't have to be racy or overtly sexy to impress your partner! We promise your partner will love the artwork created during your boudoir session. The act of moving outside your comfort zone will be enough to wow them. (Though, we think you will both be wowed by the images we create together!)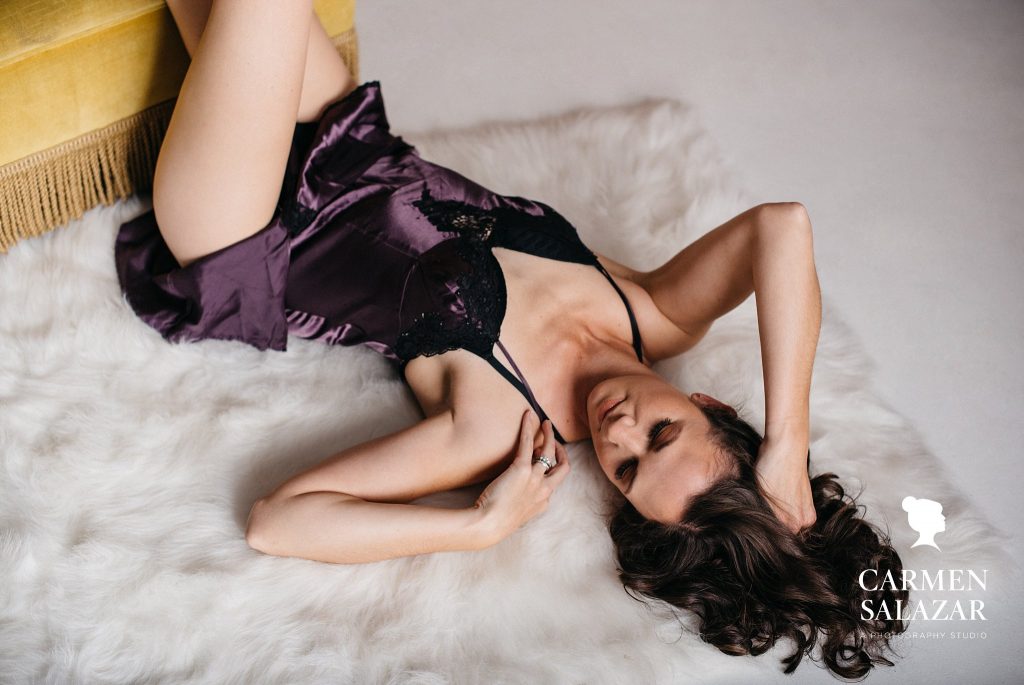 3. Modest Boudoir Photography helps women celebrate life milestones.
Women often come to our boudoir photography studio to celebrate a significant event in their life. A new job, a new chapter in your life, the ending of a relationship, an upcoming wedding, cancer remission, or a big birthday are all reasons to celebrate! Taking one day out of your life to experience a luxurious experience devoted to YOU is the perfect way to celebrate! Allow us to pamper you, treat you like the supermodel you are, and then bask in the delight of our same day viewing the beautiful portraits we create.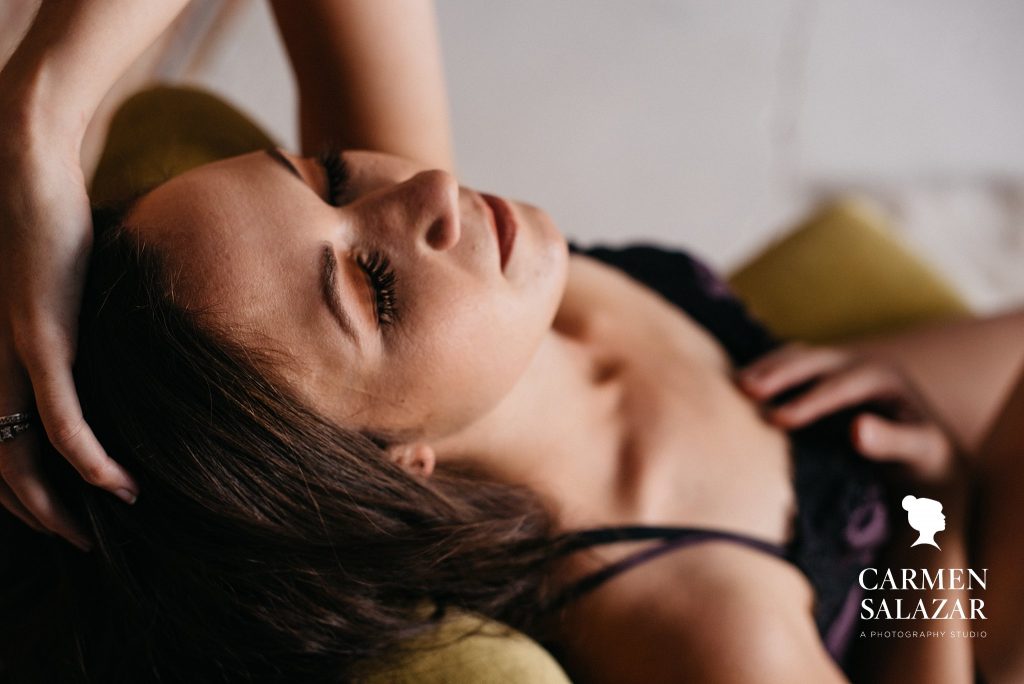 4. Modest Boudoir Photography is a gift to yourself.
At the end of the day, a modest boudoir photography session is a gift to yourself. Nothing can change your self-perception more than seeing yourself through new fresh eyes. With expert photography skills and posing tips, our photographer, Carmen, will highlight your favorite features and bring out your inner spirit. The resulting portraits are YOU! These are not "glamour" portraits. Instead, we aim to photograph your true essence. Your artwork will remind you of strength, courage, and beauty.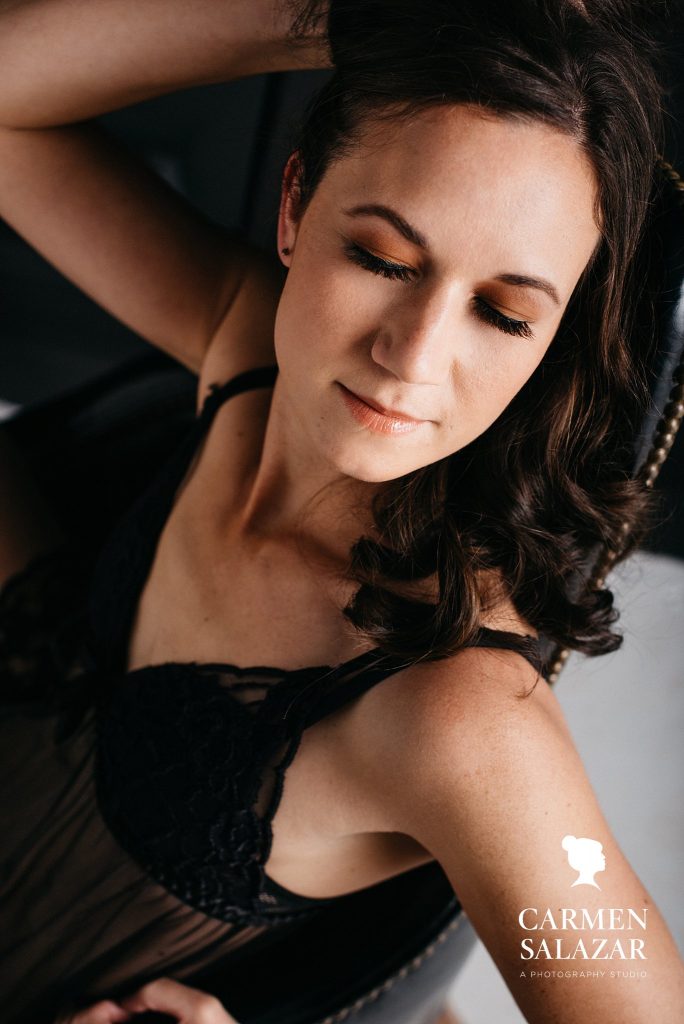 Modest Boudoir Photography increases confidence.
Do you want to grow your confidence? Try something new and outside of your comfort zone! We all want to look and feel amazing by carrying ourselves with confidence. The only thing that holds us back is our own mindset. Often we have to wear confidence before we feel confident. Boudoir photography gives women that opportunity.
Even if you choose to wear more, instead of less, during your session, the act of showing up, being bold, and embracing your present version of yourself will grow your confidence. The poses themselves can be dynamic and confidence-building. (Have you heard of the Superwoman pose?)
Beyond the experience itself, the created artwork will stand as a reminder of the day you chose to do something new. Your portraits will give you the courage to push more into your confidence in all areas of your life!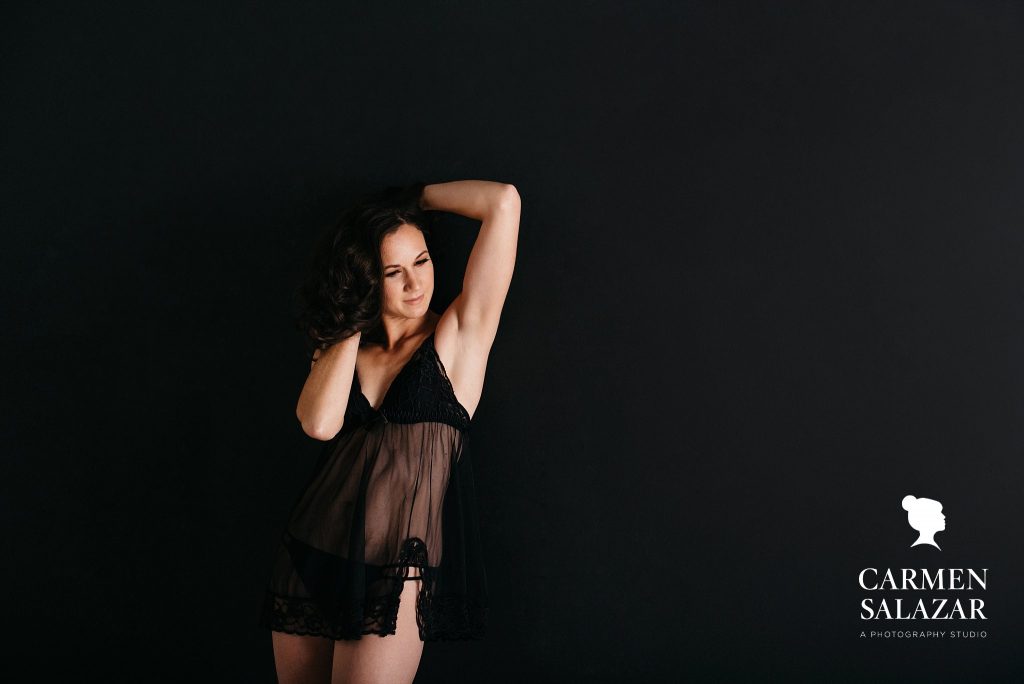 Let's start your journey of empowerment today!
As you can see from the portraits above, boudoir photography doesn't have to be all boobs and buts and risque poses. Modest boudoir photography is a thing! Today's featured Boudoir Beauty looked stunning in these poses and modest lingerie outfits.
As Boudoir Beauty Ms. K said,
"I came to Carmen Salazar Photography to create a memorable gift for my husband and to celebrate my 30th birthday. I was nervous about being almost naked for someone other than my husband. Despite that, I knew this experience was all about accepting my flaws and becoming comfortable with what I've got. I noticed how my confidence grew throughout my session.
My advice: Don't be afraid to embrace your body and to be proud of what you've been gifted."
We couldn't agree more! Don't allow your limiting beliefs to hold you back from having an amazing experience and creating the best gift you can give yourself – increased confidence!
Sacramento Boudoir Photography | Boudoir Photography Sacramento