Meet our newest boudoir beauty Meg!  Meg came in to be photographed as a surprise gift for her husband.  She was found these gorgeous little bloomers on etsy and wore her wedding heels for a little sexy wedding day nostalgia!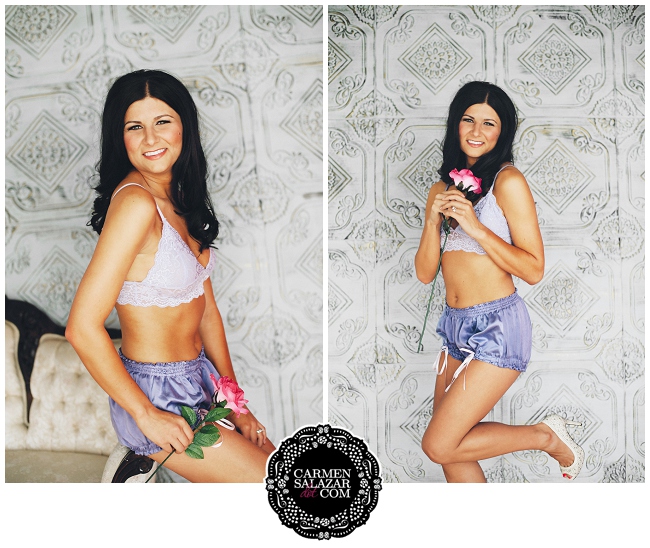 Meg had these amazing white ruffled boy shorts and head piece that worked so well with our fur and Gatsby set!  She rocked this look!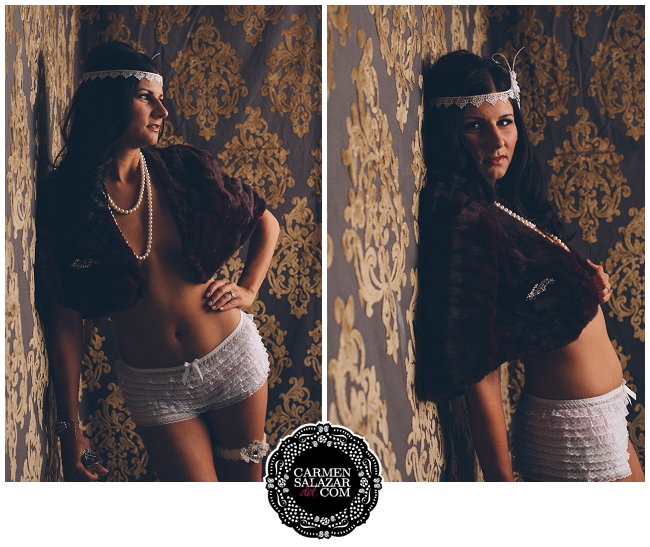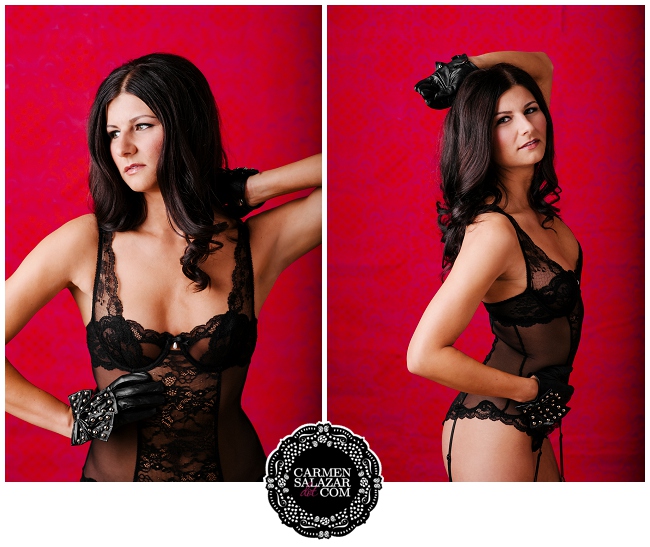 This was by far my favorite outfit of the shoot.  This lingerie accents everything Meg loves about her curves…plus the leather gloves are a sassy little touch!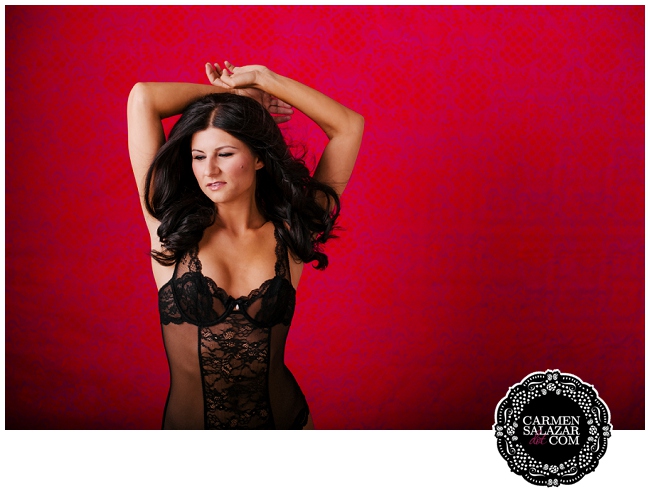 We know that some women have butterflies at the thought of  coming in for a boudoir shoot.  We thought the best way to ease those nerves would be to hear a few words of advice from a Boudoir Beauty herself!
What were you most nervous about before being photographed?  Well, obviously, I am not a model. I am actually quite awkward in most photos. Coming up with sexy little poses and seductive looks are not on my talent list. I was very nervous that I would get all dolled up and not be able to make the most of the shoot. It was a dream to discover Carmen knew exactly how to make me feel comfortable. She guides you into fun, sexy poses that flatter your body and personality. She makes you FEEL like a model! Also, every woman has their insecurities. Mine happens to be my stomach. I was very self-conscious about showing my stomach in my second outfit. But, again Carmen knew just how to bring me out of my shell and how to show off all my features in each outfit and pose. She truly is a magic maker.
What was the most fun part of your experience?  Getting transformed into a goddess and actually FEELING beautiful. I got to feel like a model for the day. I loved the confidence the whole experience instilled in me. I felt celebrated. And I got to capture all of that in beautiful photographs that will last forever. Carmen is giving all her boudoir beauties a wonderful lifelong gift. For after, if we ever need a reminder of how fabulous we really are, all we have to do is take a peek back. The proof is in the photos!
What's the best advice you can give other women who might be nervous about doing this for their honey?  Naturally you will be a little nervous. But if I could go back I wouldn't be nervous at all. I would put that nervous energy and roll it into – big ball of excitement. Your honey loves you. They already think you are gorgeous. This is your chance to do something extra special for them. But, remember, this is also an amazing chance to do it for yourself. We must not forget that!