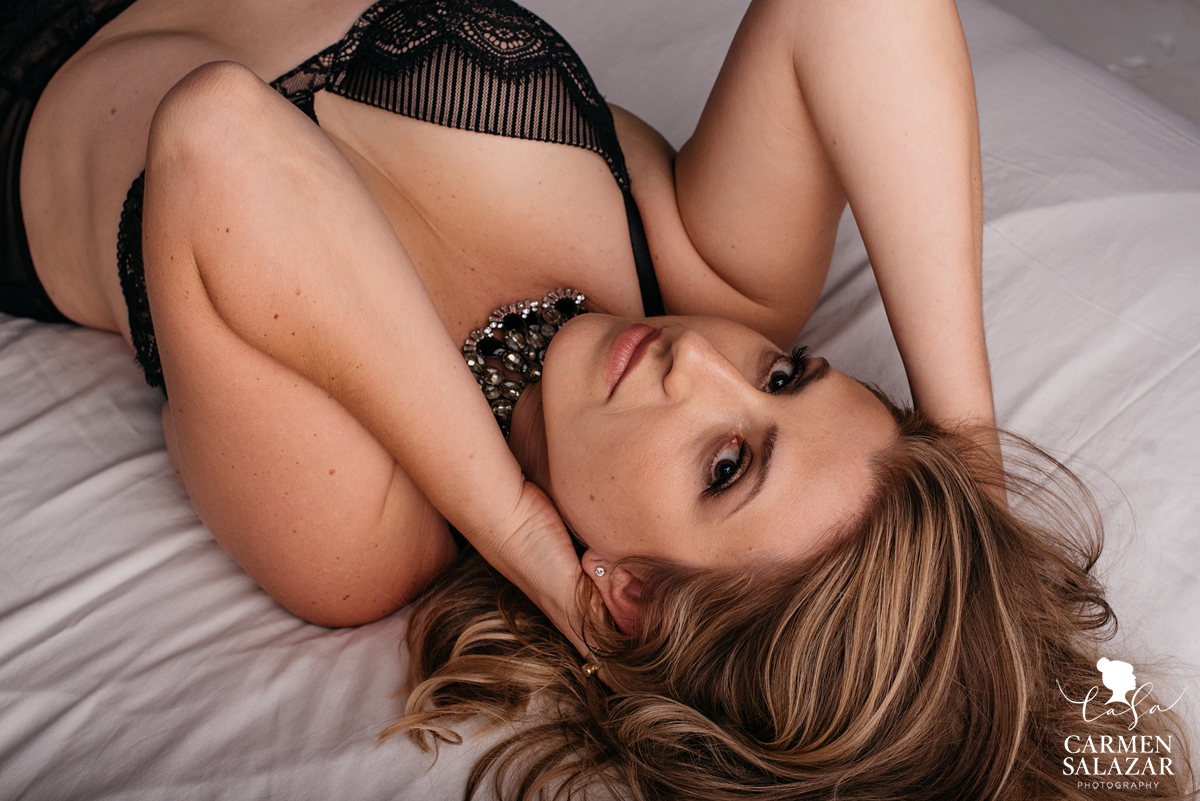 Q: WHAT IS A BOUDOIR SESSION?
For some it's feeling sexy and taking portraits to capture that feeling, for others it's celebrating personal acceptance for who you are in this moment, and for a few, it's capturing the real woman and the real curves they possess so they can be an example of real and empowered beauty to their children.
My goal is to discover what this experience needs to be for you and be there to guide you through it. This is an opportunity to shed all the layers that society, friends, family, or your own voice says you have to be. During your boudoir experience, you can be whomever you want to be and know that you are in a safe space that holds no judgement. You can celebrate the woman you are, or you can explore the depths of your feminity you've never allowed yourself to before. Just know, I am here to help make your experience everything you want it to be and create artwork that will serve as a reminder of this transformative experience.
Q: I'M NOT A LINGERIE TYPE GIRL, CAN I STILL DO BOUDOIR?
Absolutely! Lingerie is not the only way to look and feel sexy. You can do a boudoir shoot wearing a dress, robe, button-up, etc. It really comes down to what makes you feel sexy, empowered, bold, (insert whatever emotion you want to evoke) during your portrait experience. My goal is to find out what that is for you and guide you through the experience.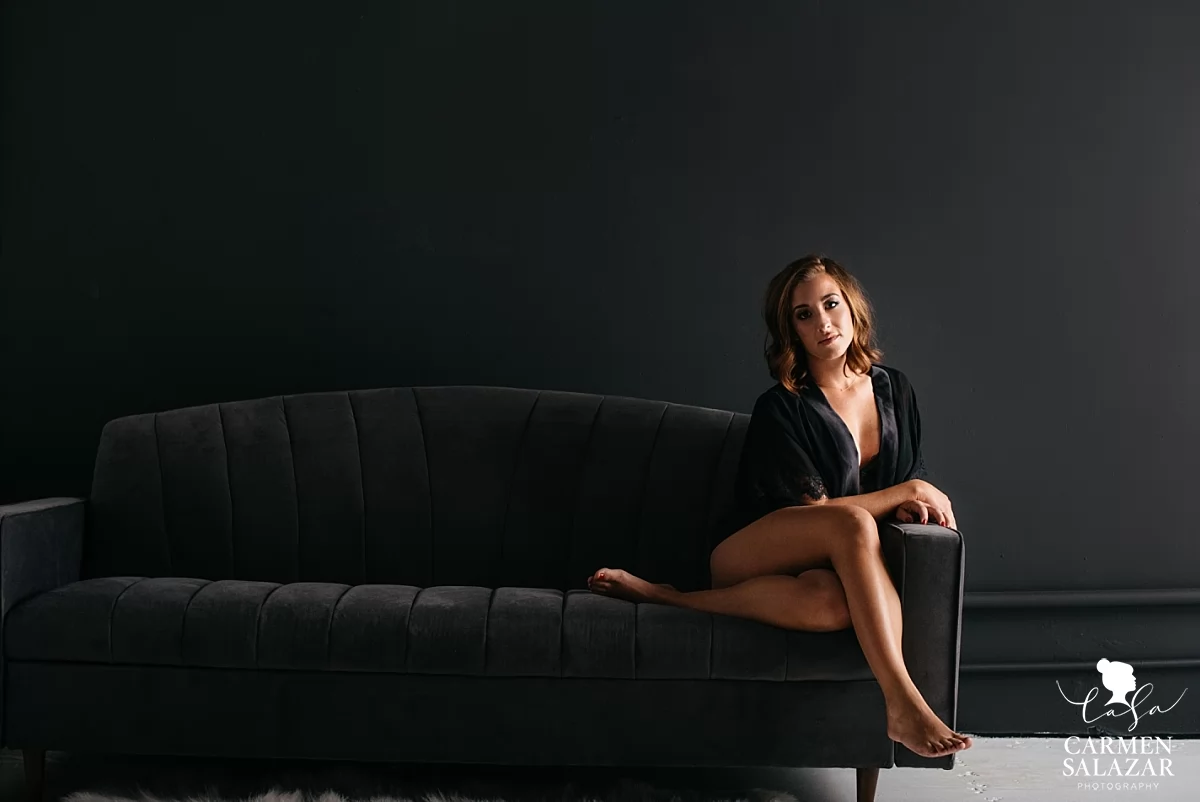 Q: WHAT IF I DON'T LIKE MY PICTURES?
After photographing women for over 10 years, I'm confident that you will be thrilled with your boudoir portrait experience and artwork. However, if for any reason you are unsatisfied, you are under no obligation to purchase any artwork and I'd be happy to do a re-shoot at no cost to you. That's how much I believe you will love the photographs, the experience and the woman you see in those photographs. I believe wholeheartedly that your artwork will be a celebration of the woman you are and will serve as a resounding reminder to you daily!
Q: AFTER MY ORDER IS PLACED, CAN I PURCHASE ADDITIONAL ARTWORK IN THE FUTURE?
I do same-day Reveal and Ordering appointments for all of our in-studio boudoir clients to give you the best experience. Your ordering appointment is your opportunity to purchase any and all artwork your heart desires. Once your order is placed, I will only archive and store your ordered photographs.
I do have flexible pre-payment plans so clients can invest in the artwork that will be most impactful for them.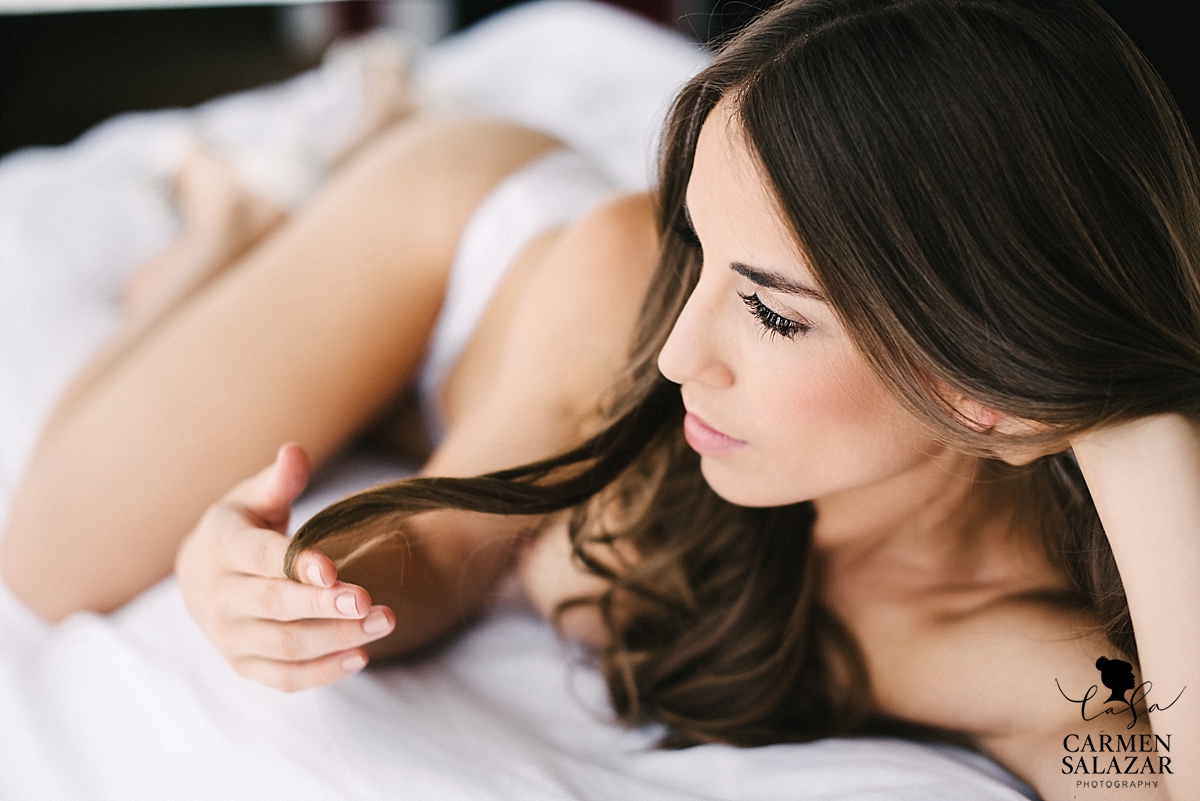 Q: IS HAIR AND MAKEUP INCLUDED?
Hair and Makeup is included in your session fee! Your boudoir experience is meant to be an empowering and pampering day for you. Your time with your stylist not only makes your styling vision come to life but also allows you to relax any jitters before your shoot and build confidence before going on set for your photoshoot. I also suggest that our boudoir beauties plan for dinner and/or drinks out with someone special or your girl tribe. No sense in washing off all that pampered goodness just yet!
Q: HOW MANY OUTFITS SHOULD I BRING?
I recommend bringing at least 5-6 options for your photo shoot. I will have time to photograph up to 3 outfit/set changes for our in-studio portrait session you can add additional looks for an additional fee to be paid 30 days prior to your shoot. When you arrive for your photoshoot we'll begin with a quick style consult to choose the outfits that we'll work with. I also recommend that all clients bring a pair of black and nude panties as well as a pair of black heels.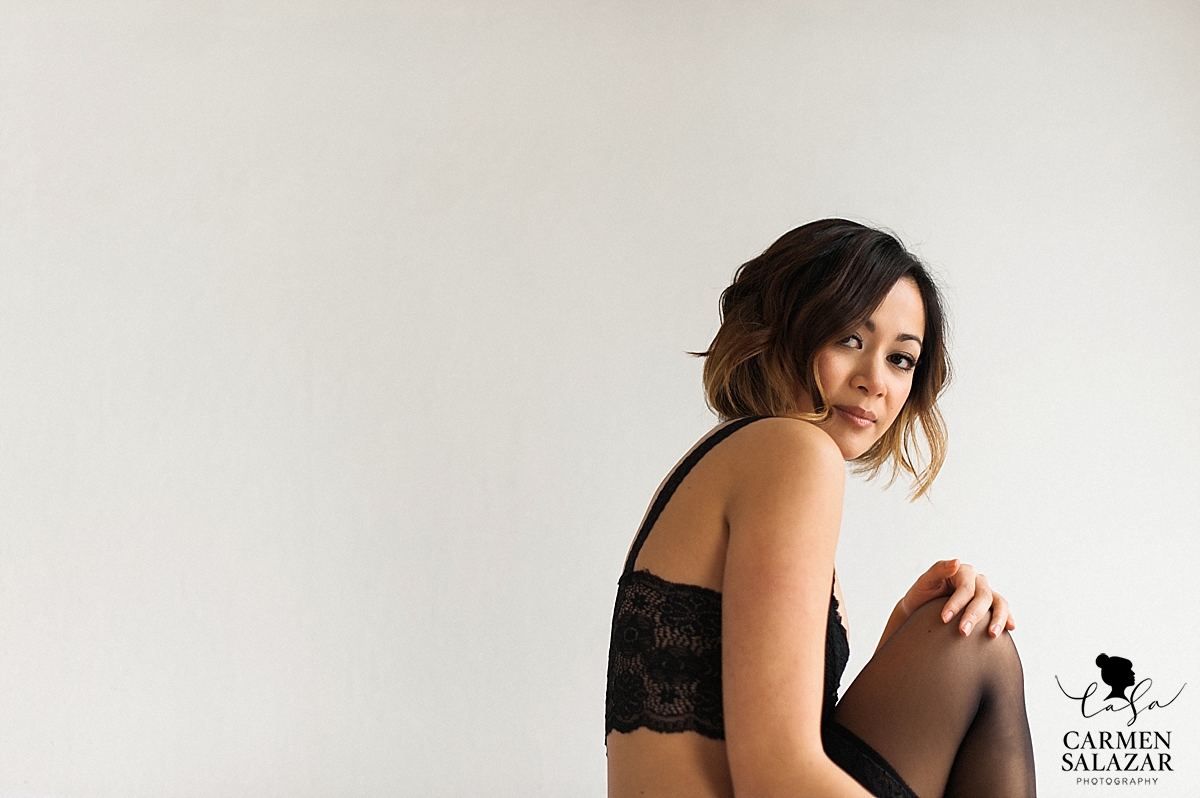 Q: DO YOU HAVE TO POST MY PHOTOS ON YOUR WEBSITE IF I WORK WITH YOU?
Absolutely not! Every woman on my website was asked if they'd like to share their photographs and portrait experience to inspire other women. If you feel compelled to share your photographs to inspire other women, GREAT! If not, that's ok too!  My client's privacy and comfort are of the utmost importance and priority. If you decide to share your photographs you will let me know which photographs are ok for me to use. Under no circumstance will your full name be associated with the photographs nor will you be tagged on social media, unless you have authorized it.
Q: HOW LONG DOES IT TAKE TO GET MY ARTWORK?
I offer a variety of fine art albums, portrait box collections, and wall art options. All of our artwork is handmade by artisans in the US and Italy who specialize in creating heirloom pieces with impeccable craftsmanship. I don't believe you deserve any less. As such, our artwork can take 4-6 weeks for delivery. Please make sure to discuss any special artwork delivery deadlines with me during your consultation call.

Q: DO YOU OFFER PAYMENT PLANS?
I strive to make this experience affordable for all women. Therefore, I do offer zero-interest pre-payment plans to our clients and can work with you to structure a comfortable payment option. Your artwork will be delivered 4 – 6 weeks from your session date. Some clients prefer to utilize Paypal Credit or our pre-payment plan for their boudoir purchase so they can receive our pre-paid Bonus Artwork. Don't hesitate to contact the studio to discuss your options. For some, this is a once-in-a-lifetime experience. I want to make sure you have the flexibility to purchase the boudoir artwork of your dreams to celebrate YOU and this experience.
Q: I'M READY TO BECOME A BOUDOIR BEAUTY (insert fist pump!), HOW CAN I BOOK MY SESSION?!
I typically book out 2-3 months in advance. Please contact us here for more information, or if you're ready to book now, schedule your phone consultation here! We shoot studio sessions Tuesday thru Friday beginning at 10 am. Our on-location sessions are shot on Saturdays and the time will be determined during our consultation call.